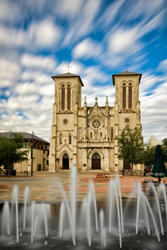 Stretching Time is the rare photography book that offers a start-to-finish discussion of techniques in plain language.
Colorado Springs, Colorado (PRWEB) September 24, 2015
Luminescence of Nature Press is pleased to announce a new photography tutorial by photographer Jason P. Odell. Stretching Time: Mastering the Art of Long Exposure Photography is a complete guide for anyone interested in transforming scenes into dynamic works of art.
Photographs are presented as a static medium, capturing moments in time. With long exposures, photographs take on new properties, as moving objects blur or even disappear. In Stretching Time, professional photographer Jason P. Odell covers the entire process of long exposure photography from capture to post-processing. Starting with the fundamentals of exposure and composition, readers will learn about the techniques and equipment needed to capture fine-art long exposures.
Stretching Time goes beyond basic photography techniques, too. Photographers will learn how to use camera movement, multiple exposures, and Adobe Photoshop to create unique images that go beyond simple bulb exposures. Readers will learn about the types of filters used in long exposure photography and how to use them properly in the field. They will also learn a variety of other techniques for creating images that stretch time, including composite stacking in Photoshop.
Stretching Time is delivered in full color as a printable, high-resolution PDF eBook format. Readers will find navigating the book simple, as it contains interactive contents and index pages. Readers will also find resources for equipment, accessories, and exposure calculation tables.
About the Author
Jason P. Odell is a professional photographer in Colorado, USA who specializes in wildlife, landscape, and creative urban themes. He has authored thireteen comprehensive photography guides, including guides to Nikon's Capture NX, Adobe Photoshop Lightroom and Nik Collection Plug-ins by Google.
Jason is regarded for his abilities as a photographer and an educator. He communicates both the technical and artistic sides of modern digital photography, making his books and workshops popular with photographers world-wide. Jason's photography has been featured by Nik Software, Tiffen, Studio Photography Magazine, Wildlife Photographic Magazine, Singh- Ray Filters, and Digital Silver Imaging.