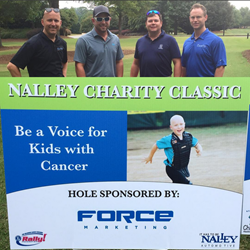 "We are always proud of our involvement within the community, but we're especially proud when we can support such worthy causes." -Cody Tomczyk
ATLANTA, GEORGIA (PRWEB) September 23, 2015
The leading tech-enabled marketing firm, Force Marketing, was a proud sponsor of this week's 24th Annual Nalley Charity Classic Golf Tournament.
The tournament took place on September 21, 2015 at Meadows, Stables and Pines Courses at the Tournament Players Club Sugarloaf in Duluth, Georgia. Sponsorship proceeds benefited Children's Healthcare of Atlanta, the Rally Foundation for Childhood Cancer Research and Nobis Works, which provides job training, employment and vocational support for those with disabilities.
Randy Sieger, the firm's Chief Operations Officer, and Cody Tomczyk, its Director of Digital Sales, both participated in the tournament.
"The organizations benefiting from the Nalley Charity Classic do such good work, providing resources, research and support for children affected by cancer as well as their families," said Sieger. "I'm glad to have had the opportunity to represent Force Marketing at this event, and to know that the proceeds will do so much good for so many people."
Hosted by Nalley Automotive, a division of Asbury Automotive Group (one of the largest automotive retail groups in the U.S.), the tournament brought together dealers, vendors, and other automotive professionals, all of whom together set a record for donations for the event with more than $140,000 raised. The day's events included a breakfast and golf tournament, followed by a dinner with awards, an auction and door prizes.
"It was an honor to participate in an event like this that benefits three incredibly valuable organizations," said Tomczyk. "We are always proud of our involvement within the community, but we're especially proud when we can support such worthy causes."
To learn more about Force Marketing's commitment to social responsibility, visit http://forcemktg.com/social-responsibility.php. To learn more about Nalley Automotive, a Force Marketing client, visit NalleyCars.com.
ABOUT FORCE MARKETING
Force Marketing is an innovative automotive multi-channel marketing company headquartered in Atlanta, Ga. The agency offers technology-enabled marketing services to an expansive client base throughout the U.S. and Canada. The company made Inc. magazine's Inc. 5000 list of the fastest-growing private companies in the U.S. in 2015 for the seventh consecutive year. More information about Force Marketing's auto dealership marketing services can be found online at http://www.forcemarketing.com.
ABOUT NALLEY AUTOMOTIVE
Nalley Automotive is a division of Asbury Automotive Group, Inc., one of the largest automotive retailers in the U.S. Asbury is comprised of approximately 87 retail auto stores spanning 103 different franchises, and is headquartered in Duluth, Ga. Also headquartered in metro Atlanta, Nalley Automotive consists of 19 retail auto stores. The Nalley and Asbury brands are committed to providing customers with an extensive range of automotive products and services, as well as giving back to the local community. For more information on these expansive automotive groups, visit NalleyCars.com or AsburyAuto.com.