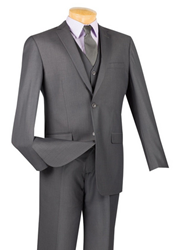 Denver, CO (PRWEB) September 24, 2015
Clothing Connection Online, the Denver Based online clothing retailer, announced they will be adding a new clothing line brand – Statement Clothing – to their online inventory. This new addition adds even more variety to the contemporary style slim tailored suits for every occasion you can find in their product offerings. The products are available online to US customers only.
"We are excited the carry the Statement Clothing line. Our customers are the most important part of our business and they let us know there was a void of well-made affordable suits that we could fill and this partnership allows us to do just that and provide our customers with what they want. The range of styles suit everyone from the young to the experienced professional. We wanted to remain true to our clients and give them more options in slim tailored suits, slim tailored pants and modern details. The Statement Clothing line offers that modern style and look our customers are after." Said Mike Chand, owner.
Clothing Connection Online is dedicated to providing high quality suits at economical prices. Adding the Los Angeles based Statement Clothing brand to their online lineup will continue to give them the edge in offering modern affordable suits designed to fit the fashion forward thinking young millennial.
"After Listening to our customers and taking the feedback they have given as well as the interaction and communication our customers share on social media it became clear getting the Statement Clothing line to our customers was essential. The other major addition is the ability to order a product online straight from a review of the item. We are always looking for ways to improve the customers shopping experience and this new feature makes it easier than ever to order the suits, shoes and more based off the ratings our customers have shared.
Launched in late September 2015, the Statement Clothing line will include modern and contemporary suits with stylish flair in 3 Piece or 2 Piece suit offerings suitable for business wear, evening wear or formal wear. The suits will come in materials such as wool and sharkskin and feature fashion forward details such as modern textures, colors, patterns, stitching and cuts.
About Clothing Connection Online
Clothing Connection Online is a US based e-commerce retailer focused on providing quality affordable men's formalwear, suits, shirts, slacks, jackets, shoes and accessories. Clothing Connection Online started by offering quality affordable men's "walking suits" and has since grown to a full offering of affordable quality men's business wear and formal wear as well as shoes and accessories to complement the entire wardrobe. Find more information and reviews of Clothing Connection Online at http://www.clothingconnectiononline.com