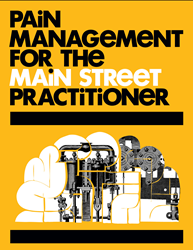 Loved hearing perspectives and experiences from multidisciplinary audience and speakers.
Montclair, NJ (PRWEB) September 24, 2015
Not everyone has 5 days to spend in Las Vegas at PAINWeek—the largest US pain conference for frontline practitioners. So why not attend a full-day PAINWeekEnd regional conference practically in your own back yard? Registration is now open for the autumn conferences. There are even a few openings still available for Saturday, September 26's New Orleans conference! The 9 other cities are Woodcliff Lake (NJ), Milwaukee, Salt Lake City, Pittsburgh, Baltimore, Dallas, Lexington, Houston, and Honolulu. For more information—dates, courses, faculty—visit painweekend.org.
PAINWeekEnd offers an educational solution to the challenge facing healthcare providers in hospital and office-based practice settings nationwide: how to meet the growing demand for chronic pain care in an increasingly stringent regulatory environment for prescribers. Now in their 5th year, PAINWeekEnd regional conferences are produced by PAINWeek. Chronic pain is a major public health issue and a concern that primary care clinicians face every day as they absorb the burden of care for an aging population. Summing up the challenge, senior PAINWeek faculty member Kevin L. Zacharoff, MD, FACIP, FACPE, FAAP, remarked, "Chronic pain patients are on the doorstep of every healthcare provider on Main Street USA!"
Participants can receive 7.0 AMA PRA Category 1 Credits™ as they enhance their skills in medication risk evaluation and mitigation, in pain assessment and diagnosis, and in the delivery of individualized multimodal treatment. PAINWeekEnd full-day programs bring relevant, practical instruction in the management of chronic pain, together with the opportunity for stimulating interaction and exchange with faculty and fellow attendees.
Our attendees have spoken! Here are a few comments from PAINWeekEnd 2015 conferences:
"Excellent seminar. Very helpful."
"Loved it. Not a single boring moment."
"Well thought-out structure. The break-up in CME and non-CME talks made it go faster."
"Very good for practical clinical info with product info provided by sponsored speakers. Appreciate sponsors!"
"Good mix of topics."
"Excellent information and presentation from experts in field."
"Loved hearing perspectives and experiences from multidisciplinary audience and speakers."
"Great Information and quality programs."
"I think this was a well-run, well planned program. I would certainly attend another. This day exceeded my expectations."
Course topics include: pain basics; pain and risk assessment; the complex patient; a case based approach to creating a treatment plan for higher risk patients; regional pain syndromes: neck/back, hip/knee; urine drug testing; clinical laboratory fee schedule changes; opioid risks, calculations; and so much more. The PAINWeekEnd curriculum will be presented by a multidisciplinary faculty and is intended for frontline clinicians including physicians, nurses, nurse practitioners, physician assistants, and pharmacists. In addition, there will be commercially supported activities addressing a range of product, disease state, and medical information topics.
The online registration fee for PAINWeekEnd Conferences is $99.
Added Bonus!
PAINWeekEnd registrants are further offered the opportunity to register for the 2016 PAINWeek National Conference, September 6-10, in Las Vegas, for $99 off the current online published price.
Groups of 5 or more PAINWeekEnd registrants also receive one FREE registration to the PAINWeek National Conference.
PAINWeekEnd is provided by Global Education Group.