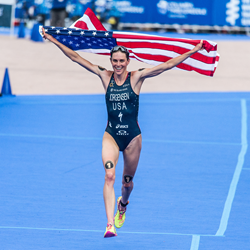 "We are always ecstatic to see members of the ROKA family reach the podium," said Rob Canales, Co-Founder and CEO of ROKA. "Gwen and Javier are once-in-a-generation athletes, accomplishing things in the sport that many did not think possible."
Dallas, TX (PRWEB) September 23, 2015
ROKA Sports, Inc. today congratulated two of its pro triathletes, Gwen Jorgensen and Javier Gómez Noya, on their two historic accomplishments at the International Triathlon Union (ITU) World Triathlon Series (WTS) Grand Final in Chicago this past weekend.
Jorgensen repeated as world champion, completed an undefeated season, and extended her record of consecutive WTS wins to 12 races. Gómez finished second in the race to ROKA athlete and Spanish Federation teammate Mario Mola, and in doing so secured enough overall points to win a record-breaking fifth ITU WTS world title. Both Jorgensen and Gómez wore ROKA's flagship Maverick Pro wetsuit and F1 goggles in the swim segment of the race. Jorgensen also wore a custom triathlon race uniform that ROKA has been developing with her over the past year.
"We are always ecstatic to see members of the ROKA family reach the podium," said Rob Canales, Co-Founder and CEO of ROKA. "Gwen and Javier are once-in-a-generation athletes, accomplishing things in the sport that many did not think possible. Working with them on their most critical equipment is a responsibility we take very seriously, and seeing them win these unprecedented world titles is a pride shared by the entire company."
Entering the competition as the defending ITU World Champion, Jorgensen had already tallied an unprecedented winning streak of 11 consecutive WTS races – a heroic feat unmatched by any athlete, male or female, in the history of the series. In August, Jorgensen also won the qualifying event for the next Olympics, securing her place on the 2016 US Olympic Team. Finishing this season with her second world championship title and 12th consecutive WTS win makes Jorgensen the overwhelming favorite to win in Rio next year.
"To have executed my race over so many different courses and conditions successfully against the best in the world – it's crazy to think about, something I never would have imagined," said Jorgensen. "I have to execute on all three legs of the race and that starts with a great swim. When I'm in the Maverick Pro [wetsuit], my custom race kit and the SPCTRM goggles, I know I have world-class equipment to perform my best – no matter the conditions."
Seven-time world champion and 2012 Olympic Silver Medalist Javier Gómez finished second in the Chicago Grand Final to become the first athlete ever to win five ITU world crowns. As the most successful triathlete in ITU history, an IRONMAN® 70.3 and Xterra World Champion, the native of Spain has earned his place as one of the all-time greats of the sport. It also places him in rarified air among the most dominant athletes in the world regardless of the sport.
"It is just amazing," said Gómez. "I don't think it has completely sunk in yet. I have so much respect for the great champions that have come before me. There are still many goals left, including Rio 2016, and I'm excited for the challenges ahead, but this one feels very special."
Gómez continued, "Working with ROKA over the last several years has given me confidence on the starting line while the competition has gotten faster. I need to work with a partner who understands the performance needs at the top level. The Maverick Pro wetsuit is simply the fastest and most comfortable wetsuit I have ever worn. Their F1 goggles give me the clarity I need to compete in any condition."
ROKA continued its dominance with Mario Mola winning the men's race, achieving his best swim ever and the fastest 10k ever run in an ITU event. In the women's race, pro athletes Katie Hursey, Flora Duffy and Carolina Routier also wore the Maverick Pro and finished first, second and third out of the water, respectively.
Jorgensen, Gómez and many other ROKA pros take advantage of ROKA's patent-pending Maverick Pro wetsuit, which has been engineered with smart, swim-specific buoyancy to encourage the fastest body position possible, more power and faster rotation. The Maverick Pro leverages physics, the world's fastest materials, and 30+ years of elite swimming experience to optimize speed, fit and comfort.
The champions also relied on ROKA SPCTRM™ swim goggles from a comprehensive optics collection that delivers the best of quality, comfort and clarity along with the optimal tint for every condition. Jorgensen utilized ROKA F1 goggles with clear mirror lenses to match the overcast conditions while Gómez saw his way to victory with F1 goggles optimized with amber mirror lenses to handle the high contrast of a sunny swim start.
Canales followed up, "ROKA continues to build on a foundation of designing the most innovative products for race day and training. With passion for performance and dedication to achieving the very best for today's athletes, we are expanding our offering this fall with new lines including premium swimwear, cycling and run apparel engineered to exceed the demands of daily training. ROKA is bridging the gap between training and competition by helping athletes get the most out of their preparation, giving them everything they need to carry confidence from practice to podium. Whether you are competing for world championships or simply against yourself, ROKA is dedicated to delivering the best performance on the market."
Visit http://www.rokasports.com to learn more about the company's expanding lines of premium performance gear, apparel and accessories. Follow ROKA on social at Facebook, Twitter and Instagram.
About ROKA Sports, Inc.
Headquartered in Dallas, Texas, with offices in Boulder, CO and California, ROKA is a premium multisport brand dedicated to empowering athletes with the performance technologies they need to defy their limits and excel beyond what they thought was possible. Like the athletes it serves, ROKA believes reaching one's best is not a destination but the first step on the next journey of greatness, and the company continually strives to achieve the most innovative and highest quality products available for those who want to perform beyond their best.
ROKA was founded in 2011 by former Stanford All-American swimmers who, after being frustrated by the offering on the market, set out to make the fastest wetsuits on the planet. Success led to an array of premium innovations utilized by numerous world-class athletes including ITU World Champions, IRONMAN® World Champions and Olympic medalists, and today ROKA is building on its reputation for quality, performance and unsurpassed customer experience as it expands into new product categories. The company takes pride in making a difference for athletes who respect the shared passion for performance excellence. For more information, visit http://www.rokasports.com.