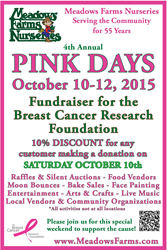 "We are extremely excited to be hosting our fourth annual Pink Days. It's a great way for us to support an instrumental organization in the fight against breast cancer, and an exciting way to get the community involved!" - Bobby Lewis
(PRWEB) September 24, 2015
Meadows Farms will once again be hosting PINK DAYS, a fundraiser for the Breast Cancer Research Foundation (BCRF). BCRF is a not-for-profit 501(c)(3) that is the only breast cancer organization to be awarded an "A+" by CharityWatch. Pink Day 2015 will be held over the Columbus Day weekend - October 10-14, 2015.
In 2014 Meadows Farms raised over $20,000 and has a goal this year of $25,000. Since they began hosting Pink Days, they have raised over $70,000 for the BCRF. "We are extremely excited to be hosting our fourth annual Pink Days. It's a great way for us to support an instrumental organization in the fight against breast cancer and an exciting way to get the community involved!" says Bobby Lewis, Vice President at Meadows Farms.
Over the Columbus Day weekend, Meadows Farms Nurseries will be rockin' the pink t-shirts and bandanas and invites the public to do the same, setting the tone for some serious fundraising. Highlights will include raffles, silent auctions, local vendors, music, community organizations and local fire departments, food vendors, and other fun and festive events! Meadows Farms will also offer a special discount for customers making a donation at the time of purchase on Saturday, October 10. For more information, contact your local Meadows Farms Nursery.
About Meadows Farms Inc.
Meadows Farms Inc., is one of the largest independently owned nursery and garden centers in the country, and was named the #1 Independent Garden Center by Garden Center Magazine. They have 22 retail locations employing more than 750 employees and a landscape facility housing 39 designers and sending out more than 70 crews a day. A grounds maintenance division also falls under the Meadows Farms umbrella.