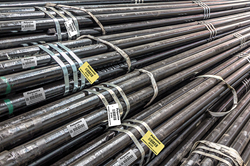 Polyonics applies its 25+ years of manufacturing high temperature, harsh environment tags and labels to help metal processors solve their most complex barcode tracking applications.
Westmoreland, NH 03467 (PRWEB) October 14, 2015
The metals processing industry requires barcodes be added to their sheets, flat and round bars, rolls and coils at temperatures of 400+°C. The barcodes are used to identify and accurately track the materials from furnace through delivery to customers. Finding a durable barcode label or tag that will survive these harsh processes, stay affixed to the material and be readable throughout the process presents a major challenge.
Traditional barcode labels and tags can withstand many lower temperature applications, but do not perform well at the temperatures required for hot metal processing. Many metal manufacturers have resorted to riveting identification plates to their materials, using metal tags—prone to damage and becoming unreadable—or hand marking their tracking information. Unfortunately these options tend to slow production, provide inaccurate data and/or are expensive due the extra equipment and added labor.
Below is an application profile to help guide the barcode selection process.
A large Indian metal processor makes round bars that go through a 400°C furnace, get bundled and banded into groups of 10 to 20, then ride a conveyor through the rest of the process while cooling. The individual bars and bundles must be identified for inventory tracking as soon as possible after they exit the furnaces. The manufacturer tried labels and metal hang tags, but the labels wouldn't stick at the high temperatures and the tags tended to bend, making it impossible to read their barcodes.
The company then tried a combination of Polyonics polyimide tags and aluminum labels and found their flexibility and durability well suited for their inventory tracking needs. The Polyonics XF-803 aluminum labels include ultra-high temperature pressure sensitive adhesives (PSA) while the XF-610 (white) and XF-612 (yellow) barcode tags allow thermal transfer printing on both sides. Both tag and label materials produce high contrast barcodes that remain readable during long term exposures to temperatures up to 400°C, short term exposures up to 600°C and provide a high level of UV and weather resistance. The XF-610 and XF-612 tags also provide high tear resistances to help prevent unintended removal during outside storage and delivery.
The Polyonics family of barcode tag and label materials provide a wide variety of robust ID and tracking solutions for hot metal manufacturers. Their polymer coatings provide durable and abrasion resistant print surfaces for critical barcode tracking information that is readability throughout the complete process helping assure accurate inventories.
For more information or to receive free samples to evaluate, please contact dave.genest(at)polyonics.com or 603.903.6327