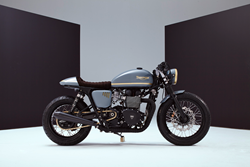 At the end of the day, it's about being connected with the bike. It may sound a bit sentimental, but it's how we feel.
(PRWEB) September 24, 2015
As featured on leading global motorcycle blog Bike Exif, Turkish custom motorcycle garage Bunker Custom Cycles built an achingly gorgeous Triumph Bonneville cafe racer, and used British Customs upgrades to realize their vision.
"From our point of view, new age bikes just lost their attitude and character along the way of consumerism. Of course some technologies are incredibly useful and make us drool over them, but in the end many of them just weaken the connection between man and machine," Can Uzer, one of the Bunker Custom Cycles' founding Uzer brothers, said when asked about why they work with vintage style motorcycles.
While Bunker Custom Cycles usually only use vintage motorcycles when making a custom build, they made an exception for the modern Triumph Bonneville. The modern Bonneville, alongside the rest of Triumph's Modern Classics line, is known for being one of the most popular platforms used for making vintage or retro builds due to the expansive portfolio of parts available for it.
When the Uzer brothers sit down to design a custom build with a customer, they believe that ergonomics are as important as aesthetics. They want the rider to have as much of a connection with the bike through the way it feels as with the way it looks.
The build also has to be done in such a way that the owner can work on their bike with their own tools. "At the end of the day, it's about being connected with the bike. It may sound a bit sentimental, but it's how we feel," Can Uzer stated. The Uzer brothers are great examples of people without formal training, like many riders, who can successfully transform a motorcycle with some bolt-on parts, common tools, and a little imagination.
"As a mass-produced object of desire, stock bikes can't fulfill a rider's every need in terms of functionality, ergonomics, or aesthetics. So we customize bikes according to these specific needs," Can Uzer explained.
The beauty of this custom build is that it isn't unattainable to the average rider who wants to recreate it, or do something similar. The British Customs upgrades used are all factory-spec and bolt-on, meaning they can be easily installed them with common tools and minimal technical knowledge.
To find out more about the upgrades used to make this build, read the post on British Customs' blog here.
About Bunker Custom Cycles:
Bunker Custom Cycles is run by Can and Mert Uzer. Together, they create custom vintage motorcycles. Bunker Custom Cycles began when the Uzer brothers decided to convert a Triumph into a bobber in their living room, and has since grown into a custom motorcycle garage. They are based in Istanbul, Turkey.
About British Customs:
British Customs is a Southern California-based lifestyle brand and designer of aftermarket parts for Triumph motorcycles. They are known for making the highest quality factory-spec bolt-on parts that only require common tools and minimal technical knowledge to install. With any of their parts upgrades, the average rider can completely customize his or her motorcycle in a weekend.