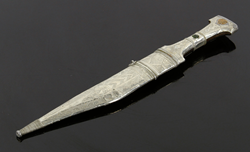 "One of the finest edged weaponry collections I have seen come to auction " Harry Morgan Senior Appraiser
Beverly, Massachusetts (PRWEB) September 24, 2015
Kaminski Auctions' October 11th sale will present a 3-session auction featuring the edged weaponry collection of Vincent J. Vabri to be sold unreserved. An avid collector, Mr. Vabri (1919-2001) spent 30 plus years amassing a phenomenal array of weapons from all over the world including rare swords, knives and daggers.
He began his collection of edged weapons with hunting and scout knives and began to get serious about his collecting while serving in the military in Europe during World War II. Throughout his life he sought out blades at guns shows across the country and purchased those he thought were aesthetically pleasing. He was a regular visitor to the annual Vallejo Gun Show at the Solano County Fairgrounds in Vallejo, California.
Highlights of his collection include an Indo-Persian Khanjar, with a jade carved hilt and gold inlay on the blade and scabbard. Measuring sixteen inches overall, with a ten inch blade, the rare Khanjar is valued at $3,000-$5,000.
A Jambiya is an exotic knife type found in typically in Arab countries and India that is worn at the stomach under a sash or belt.
An outstanding Jambiya in this collection has a storied past and features a silver hilt and scabbard, decorated with a green stone and measures twelve inches overall with a seven and a half inch blade. This rare knife was originally owned by Talal, Sheik of Tafas, a close associate of T. E. Lawrence on whom "Lawrence of Arabia" was based. The knife transferred upon his death to his nephew Abdul Kader in 1917 then given to Reginald Stavis of Salisbury, England. This lot includes ownership and purchase documentation and is also valued at $3,000-$5,000.
A Congressional Medal of Honor recipient's Civil War single shot rifle is also featured in session three of the auction. The rifle stamped "M. M. Haskell Co. C, Mass Inf," with a six millimeter bore, and twenty-four inch long barrel, is from a Massachusetts estate. Marcus M. Haskell, Sergeant in Company C, of the 35th Massachusetts Infantry during the American Civil War, received the Congressional Medal of Honor on November 18, 1896.
Session two of the auction is dedicated to African and Tribal artifacts and features a Ngil type Fang mask, carved and painted, with an elongated face, from Gabon. This specific mask was published in "Masks of Black Africa," by Ladislas Segy, figure 198 and is valued at $3,000-$5,000. From a California collection comes an early 20th century carved Papua New Guinea flywhisk and a large Papua New Guinean carved and painted tribal mask, with feather adornment. There is also a lot of two early 20th century dean gle Dan masks from the Ivory Coast with cloth fiber, shells and bell attachments from the same collection.
Starting at 10:00 AM, the Estate part of the auction will commence featuring a spectacular ruby necklace of fourteen carat and yellow gold, with forty-nine natural rubies, including step-cut, pavilion and oval, and fifty round, brilliant, diamonds, with an AIGL appraisal report. With a total weight of 46.0 grams, this important piece is estimated at $15,000-$20,000.
A Girolamo Comi, (Italian, 1507-1581), painting oil on wood of "The Dance of Salome," inscribed 1562 features in the fine art portion of the sale as well as a view of Somes Sound, Mt Desert Island oil on panel from a New Hampshire estate.
A Russian icon by Vasily Semenov, a 20th century Isfahan rug and framed autographed photo of Babe Ruth are some of the eclectic mix of highlights from the estate portion of the sale.
Preview for this sale is Thursday through Saturday, October 8th -10th, 10:00am -5:00pm and starting at 8:00 am October 11th the day of sale. For more information and to sign up to bid with KaminskiLIVE go to http://www.kaminskiauctions.com.