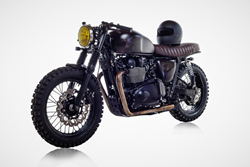 "We wanted to make something that hadn't really been done before in the cafe racer scene."
Los Angeles, CA (PRWEB) September 23, 2015
The Bike That Can Go Anywhere for the Man Who Does Everything
David Beckham is a known motorcycle enthusiast who owns only the sleekest two-wheeled machines available. Over the last year, he has been seen riding a custom Triumph Bonneville through the streets of LA that looks as gorgeous as it does rugged.
But who made this stylish custom build for him has remained a mystery.
Until now.
It turns out that Southern California-based lifestyle brand and designer and manufacturer of aftermarket upgrades for Triumph motorcycles British Customs is whodunit.
As featured exclusively on Silodrome, British Customs just published the build notes for David Beckham's Bonneville on their blog with lists of all the upgrades they used to make his "light-custom" build. They call it a light-custom because apparently, as customized as his bike looks, the entire thing can be very closely replicated using any modern Bonneville with the same factory-spec bolt-on parts using only common tools and minimal technical knowledge.
"We wanted to make something that hadn't really been done before in the cafe racer scene," stated Jason Panther, President of British Customs. "We wanted to make a bike that would be great for riding around a city but that you could also get dirty on. I'm a believer in the idea that less is more. It's easier to add parts than to simplify a bike. While we did use a lot of bolt-on parts, we also made some special modifications like the switches that were wired inside the handlebars to clean up the controls."
But they do say "very closely replicate" because this was a unique build for David Beckham, with a few outlying custom parts and tweaks from Triumph that aren't available to the public.
The build notes show how the rich character of the bike was created from drawing on the deep heritage of classic motorcycles. Clip-on handlebars and a stripped-down look pay homage to the cafe racers of the 50s and 60s. The slammer seat, drag pipe exhaust, and thick-treaded tires are reminiscent of the good old days when dirt bikes were actually street bikes with knobbly tires. This is a bike that can go anywhere and do anything, and looks amazing any which way.
While the majority of the upgrades are easy to install, a handful of those which aren't for the faint-wristed were withheld. Inquiring minds can reach out to the British Customs' support team for those details, though.
But really, as cool as this custom bike is, why would anyone want to copy someone else's build when they could easily make their own?
About British Customs:
British Customs is a Southern California-based lifestyle brand and designer of aftermarket motorcycle parts. They are known for making the highest quality factory-spec bolt-on parts that only require common tools and minimal technical knowledge to install. With any of their parts upgrades, the average rider can completely customize his or her motorcycle in a weekend.
About Silodrome:
Silodrome is a leading global publication of gasoline culture documenting the high end motorcycle, car, boat, and gear scenes. Silodrome is edited by James McBride, who also writes for Bike EXIF, Road & Track Magazine, eBay Motors, TimeOut Magazine, The Huckberry Blog, Motorcycle USA, and a number of other publications of taste.