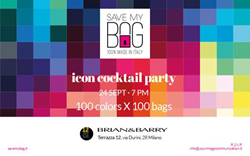 New York, NY (PRWEB) September 24, 2015
SAVE MY BAG, the new bag concept from designers Stefano and Valentina Agazzi, is excited to launch its limited edition Icon Bag in style with an event at the Brian & Barry Building at Terrazza 12 in Milan on Thursday, September 24 at 7:00 PM.
The limited edition Icon Bag comes in a chromatic palette of 100 shades and will be sold exclusively at Brian & Barry as well as Save My Bag flagship stores throughout Italy. The 100 limited edition colors are meant to celebrate the brand's commitment to a 100% Made in Italy product.
The launch of the Icon Bag comes on the heels of the successful and colorful debut of Save My Bag. The fun and structured handbags from the Icon to the 3|4, Weekender, Portofino, Joy, Hippy Joy and Hippy Clutch have caught the attention of style influencers and tastemakers including "Sex and the City" costume designer Patricia Field and television personality and entrepreneur Oprah Winfrey.
Save My Bag is 100% made in Italy and distinguishes itself for the polychromy of the creation, for the classic shapes and the tried and true volumes, all of it interpreted through an original well researched material: "Poly-Fabric with LYCRA®" fiber, an innovative material which is softer than neoprene and more glamorous than lycra, and enticing with its lightness, softness and elasticity.
About SAVE MY BAG: Save My Bag was first developed in Bergamo in 2013 with the intent to communicate in a new way through handbags and link itself to what's contemporary. The Italian-born brand embraces the idea of protecting your own bag which then transform it into an "It bag" that acts as an emblematic object in its genre. Save My Bag believes your handbags should be a true cult symbol that defines your mood and personal style and transcends seasons. Save My Bag is currently sold in 30 Countries and more than 700 stores worldwide and can also be purchased online with International shipping.
http://www.savemybag.it
SAVE MY BAG Limited Edition (100 Colors) Icon Bag Launch
When: Thursday, September 24, 2015 at 7:00 PM
Where: Brian & Barry, Terrazza 12, via Durini, 28 Milano
No RSVP needed, please mention Seventh House/Showroom Seven upon arrival
Guests at the event can design and and receive a customized Icon bag
Contact: Seventh House
Mandie Erickson, mandie(at)seventhhousepr(dot)com
Dara Smith, dara(at)seventhhousepr(dot)com
Lauren Davenport, laurend(at)seventhhousepr(dot)com