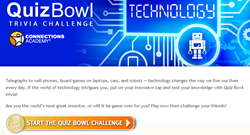 Baltimore, MD (PRWEB) September 24, 2015
As the 2015-16 school year gets underway, educators at Connections Academy are offering students of all ages a fun, free, online trivia game focused on technological innovations. The launch of the Connections Academy Quiz Bowl Trivia Challenge: Technology Edition comes as students nationwide are diving into academics, engaging with teachers and completing lessons in the new school year.
Across the country, more than 60,000 students enrolled in Connections Academy-supported online public schools have also begun a new school year with a technology-enhanced education. Students are able to learn from anywhere there is an Internet connection with interactive web tools and resources, as well as interact with teachers and classmates in online classroom sessions.
Connections Academy educators explore some of the great innovations of the past, present and future in the latest edition of Quiz Bowl Trivia Challenge: Technology Edition. Featuring twenty trivia questions of varying degrees of difficulty, the Quiz Bowl promotes lively and educational discussion among parents, students, and friends, and serves as a resource for teachers looking to incorporate fun activities into their lessons.
SAMPLE QUESTIONS
1. A _____________ is not a component of a laptop computer?
A. Processor
B. Keyboard
C. Hard Drive
D. Scanner
2. What does the navigation device GPS stand for?
A. Global Positioning System
B. Global Product Strategy
C. Global Protecting System
D. Global Production Support
3. Who invented the Model T car in 1908?
A. Henry Ford
B. Karl Benz
C. Thomas Edison
D. Johannes Gutenberg
Answers: 1 – (D) Scanner, 2 – (A) Global Positioning System, 3 – (A) Henry Ford
This latest trivia challenge, available to the public, is inspired by Connections Academy's Quiz Bowl Club, in which virtual school students across the nation participate in weekly academic competitions with their peers. The Quiz Bowl Club is one of the many clubs and activities that virtual school students in grades K through 12 can enjoy with Connections Academy.
To take the Connections Academy Quiz Bowl Challenge: Technology Edition, or to download a printable version of the questions, visit http://www.ConnectionsAcademy.com/QuizBowl.
About Connections Academy
Connections Academy is a leading provider of high-quality, highly accountable virtual schooling for students in grades K through 12. Through tuition-free public schools, and full-time and part-time private school programs, Connections Academy delivers superior, personalized education for students, with the freedom and flexibility to experience our online learning community from anywhere. The combination of certified teachers, a proven curriculum, technology tools, and community experiences creates a supportive and successful online learning opportunity for families and children who want an individualized approach to education. Among the schools supported by Connections in the 2015–16 school year are 37 Connections Academy virtual (online) public schools and Nexus Academy blended schools that operate in 26 states. It serves students worldwide through the online private school, International Connections Academy. Connections Academy offers grades K through 12, though some public school programs do not offer all grades. Enrollment for the 2015-16 school year is open for most schools. For more information, call 800–382–6010 or visit http://www.ConnectionsAcademy.com. Connections Academy and its parent company, Connections Education, are part of the global learning company Pearson (NYSE:PSO).