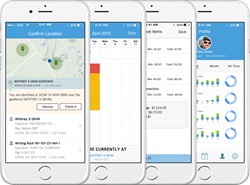 Houston, TX (PRWEB) September 29, 2015
Today, Knomatic launched the milestone 3.0 release of its flagship Velocity Suite. Velocity Suite 3.0, which includes major updates, allows companies to effectively mobilize their field operations and accelerate business processes, saving critical time and money. In addition, Knomatic announced significant new additions to its SmartForms and WorkFlow engines that changes the way enterprises integrate their businesses into mobile applications.
"This release is packed with innovation and definitely marks a significant change in the way mobile software is developed. We've made it incredibly easy for a non-developer to produce 100% native mobile applications using our web-based configuration tool. Our SmartForms and WorkFlow technology deepens the connection between the field and the office and allows apps to be deployed in hours instead of months. Our team has built a tool that makes creation and deployment so simple yet robust. It's an essential mobile tool for enterprise customers" said Laura Capper, Founder and CEO of Knomatic. Capper later cited the industries that have been disrupted by Knomatic's technology include oil and gas, pipeline integrity management, utilities, industrial, manufacturing and construction.
At the heart of the Velocity Suite is ContextSync, a signature technology that intelligently uses location, role and activity to make completing tasks and filling out forms easy. This allows companies to eliminate redundant data entry, and give their employees more time to spend on productive tasks. With this technology, data is quickly available in the right format, whenever the mobile user needs it, regardless of location or connectivity.
Knomatic, LLC is a Houston-based mobile solutions provider that enables companies to streamline their field business processes. Its Velocity Suite is a full stack of native mobile applications with offline sync capability that can be configured and deployed using Knomatic's patent-pending web-based Studio. With features like SmartForms and Workflow, robust full-featured custom apps can be launched in days, not months, all without the need for any coding or software developers.