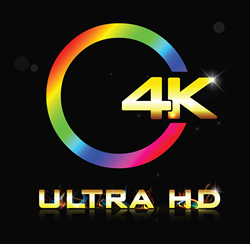 "This is the way of the future,"
Los Angeles, CA (PRWEB) September 24, 2015
Comedy Dynamics has announced its conversion to 4K resolution cameras and post workflow for filming all of its content. This is the first comedy production/distribution company filming in 4K with the capability available in-house.
Comedy Dynamics gears up to shoot its first Netflix comedy special later this month in 4K using its own 4K system. Currently, digital movies deliver in 4K, which is 4 times the pixels and resolution of HD.
"This is the way of the future," says Brian Volk-Weiss, President of Comedy Dynamics. "And we must make this transition now to stay on the bleeding edge of the high quality curve."
4K is a simplified way of measuring how much horizontal resolution exists within a picture. UHD (Ultra High Definition) and 4K represent almost the same resolution, but UHD has more commonly been seen in homes while 4K has existed primarily in cinema. In essence, 4K refers to how many megapixels are contained within a picture.
Comedy Dynamics is the largest independent comedy production and distribution company in North America, specializing in a range of established and emerging comedic talent including Aziz Ansari, Jim Gaffigan, Bill Burr, Chelsea Peretti, Katt Williams and many more. The Comedy Dynamics catalog is available on most video streaming platforms including, but not limited to: Hulu, Roku, iOS, Amazon, and Android.
###