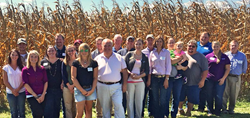 Agriculture is an endeavor that takes passion, determination and motivation and these individuals are taking the necessary steps to enhance their knowledge and ensure the success of their operations and businesses for years to come
(PRWEB) September 25, 2015
Seventeen participants gathered at the beginning of September to kick off their journey through the Ag Biz Planner Program, hosted locally by Farm Credit of the Virginias. The participants are a mix of individuals, couples, and business partners that represent ten different operations and are very diverse in commodity focus and business aspirations. The 2015-2016 program includes individuals involved in large and small scale operations ranging from produce to poultry, beef cattle to crops. This class marks the fifth consecutive year that the program has been offered in the Farm Credit of Virginias' footprint.
Farm Credit of the Virginias is partnering with Farm Credit associations in Virginia and North Carolina to conduct and host the program, which is organized and managed by Farm Credit University. The course consists of ten online modules that are completed at the participant's own pace, the development of a business plan that pertains to individual's current or potential operation and mentorship with loan officers and program mentors. The class will highlight the crucial topics of financial planning, budgeting, management, and other record keeping practices essential to the success of farming or owning and operating an agricultural business. The ultimate goal of the Ag Biz Planner Program is for participants to develop and implement a business plan that will enhance the success for those involved.
Over the next several months, participants will work through the program material and participate in a video conference call with Dr. Dave Kohl, emeritus of Virginia Tech and Dean of Farm Credit University, as well as classmates from other participating associations. Loan officers and program mentors will also conduct on farm visits to student's operations to discuss their goals and future plans for their operation and/or business. A graduation ceremony will take place in March 2016 in Raleigh, NC where those who have completed the course will have the time to network, build on the knowledge that was gained from the online material and graduate from the program. The mentorship from Farm Credit will not end there, however. Mentors will continue to keep in contact with the class as they and their operation and/ or business grow.
The current class will have the opportunity to participate in additional experiences because of their involvement in the Ag Biz Planner Program. Specifically, an opportunity is in the works to allow those involved in the program to travel to Washington, DC to tell "their story" to their legislators and have the chance to meet those involved in and see how decisions are made that affect agriculture and their operations. As the program progresses throughout the year, more details will follow.
Farm Credit of the Virginias is looking forward to another exciting program year with a great class of enthusiastic farmers and producers. "Agriculture is an endeavor that takes passion, determination and motivation and these individuals are taking the necessary steps to enhance their knowledge and ensure the success of their operations and businesses for years to come," states a program mentor.
Farm Credit of the Virginias provides over $1.5 billion dollars in financing to more than 10,000 farmers, agribusinesses and rural homeowners throughout Virginia, West Virginia and western Maryland. Farm Credit is a cooperative capitalized largely through investments made by farmers, ranchers and the rural homeowners and businesses that borrow from them. Farm Credit helps maintain and improve the quality of life in rural America and on the farm through its constant commitment to competitive lending, expert financial services and for facilitating and sharing knowledge and resources through the Farm Credit Knowledge Center. For more information, visit http://www.FarmCreditKnowledgeCenter.com or http://www.FarmCreditofVirginias.com.