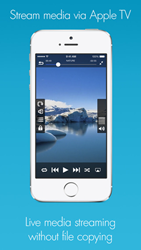 (PRWEB) September 25, 2015
Remote Media Manager was featured on NewsWatch as part of its monthly AppWatch, which takes a look at the latest and coolest applications on the market for iOS, Android, and Windows. Joe Toohey, the host of AppWatch and technology expert, conducted the app review and shared with viewers how this application allows users to access files on network devices.
In the last few years, there's been massive advancements in the ability to transfer large amounts of data through the air over WiFi or Bluetooth. What's more, with different devices like iPhones, iPads and MacBooks is that people have different platforms with which to accomplish any task, both big and small. Now here comes along an app to streamline the whole process and make it simpler.
With the app, Remote Media Manager, users can view, copy, transfer, stream or manage files through any computer, device, cloud or server. This intuitive file manager and viewer takes the complexity of file or video transfer between devices and makes it simple. The Remote Media Manager scans networks and finds the other devices on the network within a few seconds. Users can then transfer one to the other or simply stream video or audio right there without the need to transfer.
There are additional features that allow users to play any file format without having to worry about not being able to recognize the file's format. And people can even stream any of these video right to an HDTV using AppleTV. So there you have it, an inter-device file viewer and manager that's painless and effortless. No need to be a tech wiz to figure it out. Remote Media Manager is available for $4.99 on any iOS device.
To learn more, visit https://itunes.apple.com/us/app/remote-media-manager-pro-access/id984424713?mt=8 today.
About NewsWatch
NewsWatch is a weekly 30-minute consumer oriented television show that airs on the Discovery Channel and ION Network. NewsWatch regularly features top technology products and services, mobile applications for iOS, Android, and Windows devices, unique and beautiful travel destinations around the world, health and medical tips, and entertainment interviews on the show. NewsWatch airs on the Discovery Channel at 7:00 – 7:30 AM ET/PT.
NewsWatch is located in the greater Washington, DC area and has been on air for over 25 years. For more information or to watch the most recent episode, visit http://newswatchtv.com/appwatch.html.