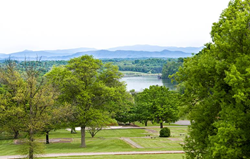 Knoxville, TN (PRWEB) September 25, 2015
Last week the Tennessee Section of the American Society of Civil Engineers (ASCE) awarded the "Abatement and Demolition of the Lakeshore Mental Health Institute to Make Way for Lakeshore Park" project conducted by Quantum Environmental & Engineering Services, LLC (QE2) as Engineering Project of the Year.
The Institute, operated between the years of 1886 and 2012, closed after 126 years of service to its patients and the community. In late 2013, the City of Knoxville selected QE2 as the designer for abatement and demolition. QE2 had performed many tasks on the site while working under multiple Tennessee statewide environmental services contracts and was familiar with the facilities and operations of the Lakeshore Mental Health Institute.
The 185-acre project involved over 20 buildings and their related utilities, hazardous conditions and materials and drainage requirements. QE2 worked with the City of Knoxville's Urban Forester to preserve native vegetation and trees. The team successfully maintained the crumbling utility's infrastructure while Knoxville Utilities Board's plans for an underground system were realized. Over 80% of the waste from the demolition was diverted from the landfill.
The team weathered many challenges during the abatement and demolition created by concurrent projects on the campus. The final phase of demolition is occurring now. The daily operations at the City of Knoxville's surplus offices, Helen Ross McNabb's residential mental health facility, Knox Youth Sports games and activities, and the general public's use of the Park were largely unaffected by the work of the team. The park was never closed during the project, which involved coordination of more than 25 engineering firms and contractors.
The City is spending a total of $5 million on infrastructure, demolition and other improvements at Lakeshore Park, setting the stage for private fundraising and implementation of an ambitious park master plan. One of the planned park improvements outlined in the master plan will be nearly quadrupling in length the Lakeshore Park's Greenway, from 2.25 miles to over 8 miles. Additionally, a canoe/kayak launch and a river walk are planned. A permanent Farmer's Market structure, amphitheater, and dog park are also planned.
About QE2: Established in 2003, Quantum Environmental & Engineering Services, LLC (QE2) is a full service Civil and Environmental Engineering firm headquartered in Knoxville. QE2 has a diverse client base in business sectors including federal, state, and local government, private and not-for-profit organizations. The firm provides comprehensive sustainable Civil and Environmental Services throughout the U.S.