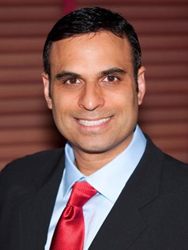 Chicago, IL (PRWEB) September 23, 2015
Amarik Singh, DDS, MS, celebrates Self-Improvement Month this September and encourages patients to join him, by exploring the possibility of a brand new set of permanent teeth. Patients can forego the discomfort and irritation associated with removable dentures by receiving dental implants in Chicago, IL. Most patients with dental implants enjoy the permanent, natural looking solution to their missing teeth, while improving their oral health.
Beneath the gum line, tooth roots fit securely into sockets within the jawbone, providing a solid foundation for a tooth. The root serves another vital function, as well. When an individual chews, the pressure against the teeth stimulates bone density in the jaw, which in turn, continues to secure the tooth firmly in place. Immediately after a tooth is lost or removed, the bone begins to lose density and deteriorates. Not only does this compromise the sockets of the surrounding roots, it may also cause the facial structure to be altered.
Since dentures are unable to prevent bone loss, they often become ill-fitting as the oral cavity shrinks. Dr. Singh recommend dental implants in Chicago, IL, to remedy this concern. These are secured in the empty socket by a titanium post that acts as a tooth root, providing the critical stimulation necessary, while anchoring the crown firmly in place. If a whole set of teeth is required, implanting a post in every socket may not be the best option. Dr. Singh may suggest that his patients consider All-on-4™ dental implants in these situations. He utilizes just four implants, to provide an anchor for a permanent prosthesis.
When an individual has incurred too much bone loss to be a suitable candidate for traditional implants, as a result of wearing traditional dentures for years, some periodontists perform bone grafts to restore the jaw. Dr. Singh offers All-on-4™ implants as a less invasive alternative, strategically placing the posts to maximize the remaining density, while promoting the stimulation that preserves oral health. Self-Improvement Month is the perfect time for those with missing teeth, to restore oral health and enjoy the confidence that comes with a beautiful smile. More information about dental implants in Chicago, IL, is available on Dr. Singh's website, http://www.pidentists.com or by calling (630) 233-9278.
About the Practice
Periodontal Implant Associates is a periodontal practice offering personalized dental care for patients in Chicago, IL. After graduating from Northwestern University Dental School, Dr. Amarik Singh went on to obtain his Specialty Certificate in Periodontics and earn his Master's from Northwestern University. Dr. Singh is deeply committed to continuing education and prides himself on remaining on the cutting-edge of the newest techniques and technology in dentistry. Dr. Singh is part of an elite group of dental professionals at the forefront of the Chao Pinhole® Surgical Technique (PST®), a revolutionary new approach to repairing gum recession. To learn more about the periodontal services available at Periodontal Implant Associates, please visit http://www.pidentists.com or call 630-424-9404.