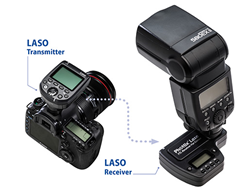 North White Plains, NY (PRWEB) September 24, 2015
The new Phottix Laso is designed to work with Canon's RT Wireless radio flash system as well as Canon non-radio ETTL flashes.
The Phottix Laso Flash Trigger System enables users to control and trigger Canon RT System, radio-enabled flashes, as well as control and trigger Canon's non-radio flashes mounted on Laso Receivers.
The Laso Transmitter can control and trigger 5 groups (15 units) of Canon radio-enabled flashes and supports multiple flash modes, including E-TTL II/E-TTL, Manual, MULTI, Ext.A and Linked Shooting.
The Laso Receiver works with Canon's non-radio ETTL flashes. Users can control and trigger these flashes from different radio devices, including the Phottix Laso Transmitter, Canon ST-E3-RT flash transmitter, and Canon radio-enabled flashes. The Laso Receiver can also be connected to studio lights, offering the ability to mix hot shoe flashes and studio lights in one triggering system.
The Phottix Laso Flash Trigger System is available on September 24th.
If you have any questions about the new Phottix Laso please contact:
Will Holowka
willh(at)macgroupus(dot)com
About Phottix
Phottix's electronic accessories run the gamut: From the innovative Phottix Indra500 TTL Studio Light, Mitros™ series of TTL Flashes, the Phottix Odin™, Strato™ and Ares™ series of Flash Triggers, to lighting and studio solutions. All Phottix products are developed with feedback from professional photographers – to assist in overcoming the challenges they face.
About MAC Group
MAC Group is a sales, marketing, and distribution company dedicated to supplying passionate photographers, videographers, educators and students with the world's finest image-making tools, education and inspiration. MAC Group represents brands across 3 categories: Tripods, Bags and Filters; Lighting and Grip; Photo and Video Accessories.