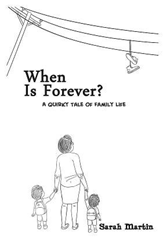 "We are pleased to announce the release of this book about family life and grandparenting that will ring true with readers of all ages." - Robert Fletcher, CEO of Strategic Book Publishing and Rights Agency
(PRWEB) September 27, 2015
Says author Sarah Martin, "When my father died at the age of 99, he left his body to the School of Anatomy at the University of Melbourne. I had an interesting discussion with my daughter, who found it difficult to explain this concept to her three-year-old son. I started fiddling around with the kind of conversation that might ensue over the subject, and gradually the character Jack came into existence and spawned a whole cast of characters and events that eventually became 'When Is Forever?'"
The interlinked stories in the novel cover three years in the life of toddlers Jack and Serena, tapping into the nuances of relationships that are sometimes painful, often joyful, and everything in between.
This delightful yet wry portrayal of life with young children explores the pleasures (and pitfalls) of being a grandparent. Accommodating the parents who were once one's children and their children in a benevolent relationship is a hard-earned skill.
"We are pleased to announce the release of this book about family life and grandparenting that will ring true with readers of all ages. It's unusual and quirky enough to become a family favorite," said Robert Fletcher, CEO of Strategic Book Publishing and Rights Agency.
About the Author: Historian Sarah Martin of Melbourne, Australia, took time out from earning her Ph.D. to explore her creative muse. The result is this lighthearted fictional account giving insight into middle-class suburban Australia. The voices of four generations come together in a subtle and textured comment on family life. Her biography, "Davis McCaughey: A Life" was published by UNSW Press Australia in 2012. Her history of the organisation Bush Heritage Australia and her first children's picture book "Galapagos Day" will be published in 2016.
WHEN IS FOREVER? A QUIRKY TALE OF FAMILY LIFE (ISBN: 978-1-68181-109-3) is now available for $14.95 and can be ordered through the publisher's website:
http://sbprabooks.com/SarahMartin or at Amazon.com or Barnesandnoble.com.
WHOLESALERS: This book is distributed by Ingram Books and other wholesale distributors. Contact your representative with the ISBN for purchase. Wholesale purchase for retailers, universities, libraries, and other organizations is also available through the publisher; please email bookorder@sbpra.net.