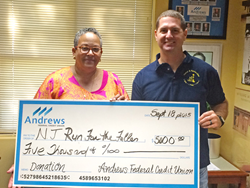 (PRWEB) September 25, 2015
Andrews Federal Credit Union is serving as the Prime Sponsor for the 2015 New Jersey Run for the Fallen, donating $5,000 in support of this worthy cause.
The last Thursday, Friday, Saturday and Sunday of September, participants run one mile across New Jersey to honor and remember each fallen hero from current military conflicts. The total run represents every service member from New Jersey who lost their life protecting the freedoms millions experience daily.
"Andrews Federal is committed to supporting the military community of New Jersey and Joint Base McGuire-Dix-Lakehurst (JBMDL)," said Maree Duncker, NJ Regional Manager.
This year all 5 branches of the US Military will be represented on the team of 22 runners, 2 coordinators and 2 medics. Families of the fallen Soldiers are encouraged to participate in the run and support the runners.
About New Jersey Run for the Fallen
The New Jersey Run for the Fallen is an organization of military runners and support crew whose mission is to run one mile for every New Jersey service member killed in Operation Iraqi Freedom, Enduring Freedom and New Dawn.
About Andrews Federal Credit Union
Andrews Federal Credit Union was founded in 1948 to serve the needs of military and civilian personnel by providing a vast array of financial products and services. With over $1 billion in assets, Andrews Federal has grown to serve more than 113,000 members in the District of Columbia, Joint Base Andrews (MD), Springfield, Virginia (VA), Joint Base McGuire-Dix-Lakehurst (NJ), and military installations in central Germany, Belgium, and the Netherlands. In addition, the Credit Union serves as a financial partner with many select employee groups in Maryland, the District of Columbia, and New Jersey.
To learn more about Andrews Federal Credit Union and its community involvement, or to become a member, call 800.487.5500 or visit http://www.andrewsfcu.org.