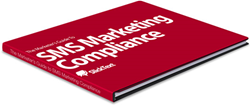 Is compliance the most interesting concept? No. But it's crucial to your success with SMS marketing.
Jamestown, NY (PRWEB) October 02, 2015
Top SMS marketing provider, Slicktext.com just added a third piece to their Learning Center, the SMS Marketing Compliance Guide. This guide provides all new users and interested customers with the information needed to meet compliance regulations. This guide revolves around standards set by the three main institutions that govern SMS marketing compliance: the CTIA, TCPA, and MMA.
The SMS Marketing Compliance Guide details text messaging requirements for both recurring and one off programs. In addition, this educational resource reviews list promotion requirements. Remember, SMS marketing is a permission based communication method. This means that business owners can only market to subscribers who have given their expressed opt in consent.
Slick Text Founder and CEO, Matt Baglia put this project at the top of the do list because, "we care about our customers. We didn't want to leave them in the dark when it comes to major compliance rules."
Failure to follow SMS marketing best practices and compliance standards could result in low campaign engagement, and worst case scenario, account suspension. With that said, it's important that all new SMS marketers read through this dense guidebook, and learn about compliance basics.
Interested marketers can find the Beginner's Guide, Advanced Guide, and Compliance Guide over in the SlickText.com Learning Center.