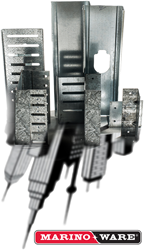 "Marino\WARE's EPD and HPD release is great news for customers. It's our goal to show the construction industry through our company specific EPD and HPD that steel should be the product of choice for green building professionals," says CEO Chip Gardner.
South Plainfield, NJ (PRWEB) September 25, 2015
Marino\WARE® helps build America. Marino\WARE® produces a complete line of steel construction products and services used in commercial building across the country. Marino\WARE believes sustainability and environmental management are not construction industry trends but corporate responsibilities. Architects, designers and contractors demand tools and resources to improve the environmental performance of buildings. Marino\WARE®'s products', Environmental Product Declaration (EPD) and Health Product Declaration will help them achieve their sustainability objectives by assessing environmental impact throughout the product's life cycle.
Marino\WARE® engaged thinkstep and UL Environments to conduct an independent, third-party "cradle-to-gate" analysis using life cycle assessment (LCA) techniques. The analysis was done according to the product category rule (PCR) for Designated Steel Construction Products and followed LCA principles, requirements and guidelines laid out in the ISO 14040/14044 standards. Thinkstep is the leader in Sustainability Performance Management--helping 40% of the Fortune 500 create business value through sustainability. UL® is a global independent safety science company with more than a century of expertise innovating safety solutions from the public adoption of electricity to new breakthroughs in sustainability and renewable energy.