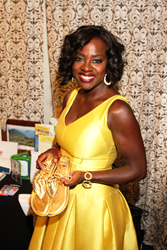 one-of-a-kind sandals which incorporate a simulated bikini top and bottom in a most creative, comfortable and elegant way
Los Angeles, CA (PRWEB) September 24, 2015
Freshly minted Outstanding Lead Actress in a Drama Emmy-winner Viola Davis is glowing in gold! In addition to garnering the prestigious award, the history-making actress picked up a pair of The Luxtrada Company's Cici Theia Gold Bikini Sandals from the Emmys weekend Gifting Suite.
The stunning new shoes are from the signature BIKINIbility collection by the recently launched and quickly rising luxury fashion designer. Mr. Penny Cai of The Luxtrada Company designed the one-of-a-kind sandals which incorporate a simulated bikini top and bottom in a most creative, comfortable and elegant way. Among its many distinctions, the Bikini Sandals may be customized with interchangeable precious pearls and classic gold chains along with original Swarovski® crystal gems to further a personalized look.
Emmy-winning Reality Host and actress Jane Lynch also scored a pair of green and gold Bikini Sandals.
Fellow Emmy-winner for Outstanding Supporting Actress in a Limited Series Regina King left with a pair as did actress Gina Rodriguez who was thrilled with her Bikini Sandals and was heard exclaiming that she "really loves it and cannot wait to wear them."
About Luxtrada
Luxtrada is a high-end yet affordable American luxury line of women's shoes, handbags, eyewear, jewelry, accessories and more. Its unique fashion designs are inspired by world-famous Southern California beaches from Santa Monica to Venice to Laguna and Newport Beaches among others. Please visit http://www.luxtrada.com.
For further information or to schedule an interview with Luxtrada CEO and designer Mr. Penny Cai, please contact Lauren Lewis at (818) 970-0052 or llewispr(at)aol.com.
FB/LOVELUXTRADA
Twitter - @ LOVE_LUXTRADA
IG - @ LUXTRADA
Photo credit: Associated Press