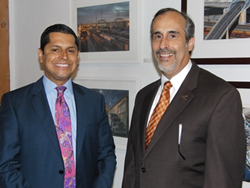 Serving as a unique addition to L.A.'s skyline and the river, the new signature Sixth Street Bridge is a transformative opportunity for the community that will improve mobility, enhance safety and connect communities
LOS ANGELES (PRWEB) September 24, 2015
Art Share L.A.'s "Ode to the Bridge" multi-media group exhibition commemorates the historic Sixth Street Bridge that is being replaced because of a chemical condition that is weakening the bridge's concrete. It is the largest bridge project in the history of Los Angeles. The art show, co-curated by fine art consultant Dale Youngman and Art Share L.A. board member Tanner Blackman, features over 30 local artists' renditions of this landmark's architecture through paintings, photographs and video installations. As part of the design and construction team for the Sixth Street Viaduct replacement project, HNTB Corporation hosted a private VIP reception for elected officials, city executives and artists, which was followed by a panel discussion.
"We are honored to be part of this special exhibition at Art Share L.A. that not only celebrates the historical significance of this beloved 83-year-old bridge, but also showcases the Sixth Street Viaduct Replacement project's world-class iconic design and construction," said Vic Martinez, PE, HNTB vice president. "Serving as a unique addition to L.A.'s skyline and the river, the new signature Sixth Street Bridge is a transformative opportunity for the community that will improve mobility, enhance safety and connect communities."
Tanner Blackman opened the panel discussion and reiterated that the new bridge itself will become a Los Angeles destination. The panel discussion featured Vic Martinez alongside City Engineer Gary Lee Moore; Tim Williams from Michael Maltzan Architecture; Conceptual Artist Glenn Kaino; and Omar Brownson from the L.A. River Revitalization Corp. Each panelist shared their unique insights on the new structure's potential impact on the City of Los Angeles, including the bridge's design, enhanced safety, sustainability and resulting improved access to the Los Angeles River.
"Art Share L.A. was so excited to bring artistic perspective to the history of the bridge by showing 40 artists works of art," says Cheyanne Sauter, executive director, Art Share L.A. "We were overjoyed by the attention this show brought to our organization and hope to host another gallery exhibit in 2018 when the new bridge is complete."
When completed in 2018, the new Sixth Street Viaduct will be a world-class, iconic piece of architecture that will continue to serve the residents of the City of Los Angeles, create its own legacy and draw aspiring artists and others to its 'ribbon of arches.'
As a leading infrastructure solutions firm in the U.S., HNTB traces its roots to the West since beginning work on Pasadena's Arroyo Seco Bridge in 1914, the firm's first year of operation.
In Southern California, HNTB has been involved in some of the region's most high-profile, complex infrastructure programs that are reshaping the region. In addition to the Sixth Street Viaduct Replacement Project, HNTB's signature infrastructure projects include: the San Francisco 49ers' Levi's Stadium, the Interstate 405 Sepulveda Pass Improvements project, Seattle's Sound Transit University Link light-rail and tunnel project, the Tom Bradley International Terminal Expansion for Los Angeles World Airports, and the "Green Build" expansion at San Diego International Airport. Currently, the firm is providing design and engineering services for the Crenshaw/LAX Transit Project on behalf of the Los Angeles County Metropolitan Transportation Authority.
About HNTB
HNTB Corporation is an employee-owned infrastructure firm serving public and private owners and contractors. With more than a century of service in the United States, HNTB understands the life cycle of infrastructure and addresses clients' most complex technical, financial and operational challenges. Professionals nationwide deliver a full range of infrastructure-related services, including award-winning planning, design, program management and construction management. For more information, visit http://www.hntb.com.