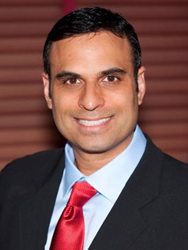 Chicago, IL (PRWEB) September 25, 2015
Individuals who want to receive dental implants as a tooth replacement option are invited to attend Dr. Amarik Singh's dental implant seminar on Wednesday, September 30, 2015, at Brittany Towers in Oakbrook Terrace, IL. During the seminar, which will be from 6:30-8:00 p.m., existing and potential patients will learn about the benefits of receiving implants from a qualified periodontist in Chicago, IL, as well as proper techniques for care and maintenance of their implants.
Dr. Singh specializes in utilizing minimally-invasive techniques to place dental implants in the most effective way possible, and has placed more than 13,000 dental implants during his professional career. Attendees of his free dental implant seminar will find out how implants can change their lives when placed by a qualified periodontist in Chicago, IL. Implants not only improve the appearance of the smile, but they also make it easier to eat a variety of foods, due to their durability and strength. Many people with multiple missing teeth choose to receive dentures simply because they are unaware of other treatment options. Although dentures are a good option for some, implants provide a better long-term solution for tooth loss. Each implant consists of a natural-looking crown that is attached to a very sturdy titanium post. The post is inserted directly into the jawbone, which gives the implant its strength once it has healed and become fully integrated into the bone.
As long as implants are cared for properly, as well as the surrounding gum tissue, patients need not be concerned with replacement implants. Dr. Singh will explain the benefits and placement process associated with implants more fully at his implant seminar. Individuals who attend the seminar will receive a gift card in the amount of $250, which can be used toward an implant treatment. Additionally, one grand prize winner will be privileged to receive a free dental implant. Space is limited during this event, so participants are encouraged to RSVP.
Patients with missing teeth are encouraged to find out if dental implants are the right choice for their situation. Those who are looking for a trusted periodontist in Chicago, IL, who is experienced in placing implants, are invited to attend Dr. Singh's seminar. Due to limited seating, Dr. Singh encourages all individuals who would like to attend the seminar to reserve their spot as quickly as possible by calling (630) 686-1036.
About The Doctor
Periodontal Implant Associates is a periodontal practice offering personalized dental care for patients in Chicago, IL. After graduating from Northwestern University Dental School, Dr. Amarik Singh went on to obtain his Specialty Certificate in Periodontics and earn his Master's from Northwestern University. Dr. Singh is deeply committed to continuing education and prides himself on remaining on the cutting-edge of the newest techniques and technology in dentistry. Dr. Singh is part of an elite group of dental professionals at the forefront of the Chao Pinhole® Surgical Technique (PST®), a revolutionary new approach to repairing gum recession. To learn more about the periodontal services available at Periodontal Implant Associates, please visit http://www.pidentists.com or call 630-424-9404.