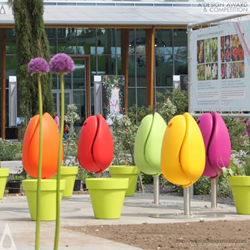 Como, Italy (PRWEB) September 24, 2015
Today, A' Design Award and Competition announced that the design project Tulpi-seat by Marco Manders has been highlighted as a winner of the Golden A' Design Award in Street Furniture Design Competition Category.
More on the award winning Tulpi-seat
Marco Manders, the lead designer of the awarded Street Furniture project Tulpi-seat said "Tulpi-design is a Dutch design studio with a flair for quirky, original and playful design for indoor and outdoor environments, with a major focus on public design. Marco Manders achieved international recognition with his Tulpi-seat. The eye-catching Tulpi-seat, will add color to any environment. It is an ideal combination of design, ergonomics and sustainability with a huge fun factor! The Tulpi-seat automatically folds when its occupant gets up, guaranteeing a clean and dry seat for the next user! With 360 degree rotation, the Tulpi-seat lets you choose your own view! " To learn more visit: https://competition.adesignaward.com/design.php?ID=38728
The Golden A' Design Award
The Golden A' Design Award is a prestigious award given to top 3% percentile designs that has accomplished an exemplary level of perfection in design. Entries to the A' Design Awards are peer reviewed and anonymously voted by an expert jury panel of established designers, press members and design professionals. Laureates of the A' Design Competition are given the A' Design Prize which includes a series of PR and publicity services such as interview with award winning designers, press release preparation and distribution services and others, in addition to the award trophy, yearbook, design excellence certificate and the award winner logo.
About A' Design Award and Competition
Since its establishment in 2009, the A' Design Award and Competition has been highlighting the very best design projects, products and concepts worldwide. The primary aim of the A' Design Contest is to push designers, artists and architects to come up with superior products and projects that benefit mankind and the ultimate aim of the accolades is to create a global awareness for good design. Learn more about the A' Design Contest: http://www.whatisadesignaward.com