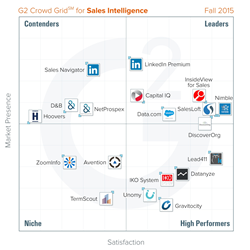 CHICAGO, IL (PRWEB) September 24, 2015
The updated GridSM report for sales intelligence tools, published today by business software review site G2 Crowd, ranks 19 products to help purchasers in their selections.
InsideView for Sales, Nimble, SalesLoft, DiscoverOrg, LinkedIn Premium, Data.com, and Capital IQ were named Leaders in the report, receiving strong customer satisfaction scores with a large market presence. Lead411, Datanyze, IKO System, Gravitocity and Unomy were named High Performers, earning strong customer satisfaction marks with smaller market presence scores. Nimble earned the highest overall Satisfaction score while LinkedIn Premium earner the highest overall Market Presence score.
The Grid℠, created from G2 Crowd's software review platform, factors in customer satisfaction reported by users, along with vendor market presence determined from social and public data to rank products. The Fall 2015 report is based on more than 1400 reviews written by sales and other business professionals.
The Fall 2015 report also includes GridsSM representing reviewer company size segments: Small Business (50 or fewer employees), Mid-Market (51 to 1,000 employees) and Enterprise (1,001+ employees). The Leaders and High Performers for each segment are:
GridSM for Sales Intelligence (Small Business):
● Leaders: Nimble, SalesLoft, InsideView for Sales
● High Performers: DiscoverOrg, Lead411
GridSM for Sales Intelligence (Mid-Market):
● Leaders: InsideView for Sales, DiscoverOrg, Data.com
● High Performers: SalesLoft, Datanyze, Nimble, Lead411
GridSM for Sales Intelligence (Enterprise):
● Leaders: DiscoverOrg, InsideView for Sales, Data.com
● High Performers: IKO System, Lead411
Sales intelligence software provides sales professionals with background and contact information for a prospect, company, or industry. Sales teams use this information to identify new leads or update information for existing contacts. Sales intelligence tools might integrate with social streams to provide additional information about a prospect, and many tools will integrate with CRM platforms to link information with existing contacts.
Of the roughly 100 products listed in G2 Crowd's Sales Intelligence Software category, the ranked products each received 10 or more reviews to qualify for inclusion on the GridSM.
Across all sales intelligence platforms, reviewers reported the product they use meets their requirements at an average rate of 82 percent, and on average reviewers said they were 83 percent likely to recommend the product they use. Products appearing on the Sales Intelligence Grid℠ for the first time are Datanyze, Gravitocity, NetProspex, TermScout, Unomy, and ZoomInfo.
On average, 23 percent of reviewers worked for enterprise companies larger than 1,000 employees, while 36 percent worked for mid-market companies with between 51 and 1,000 employees. A majority of 40 percent of reviewers worked for small-business companies with 50 or fewer employees users. Among small-business users, most appreciated a high level of performance and reliability in the product as well as the ability to easily create new users and remove users.
Some highlights from the sales intelligence reviews on G2 Crowd:
"[With InsideView for Sales,] I like being able to find the name of the correct person to call and being able to get additional info on the company [I'm researching]. Making sure that I get through to the decision maker is very important to my job, it saves me a lot of time which means I can make more calls."

Michael Connor, Industrial Real Estate Senior Associate at Jones Lang LaSalle
"[Nimble is] easy to use and bring so much value. Nimble lets us easily keep track of social communications with clients across the different social channels. Fantastic for building relationships and manage the sales process."

Guy Avigdor, Founder & COO at Klear
"First of all, the [SalesLoft] user interface is perfect. Not overly designed, but very functional and intuitive...It has helped us save so much time since [being added]...to our sales process a couple of months ago."

Scott Rich, Director of Client Strategy at Emerge Interactive
"I like that DiscoverOrg has near comprehensive information on companies we would like to know more about. In addition to the contacts and organization charts, I like that it includes installed technology and [other] business updates."

Jacob Perry, North America Field Marketing Manager at SUSE
"I don't know how Salespeople can get by without Linkedin [Premium], especially if your company does not have a robust database to begin with. If you are opening a new market, or just trying to build your own brand, LinkedIn is a must."

Adam Carlson, Account Manager at Infinity Consulting Solutions
"Data.com is easy to use and convenient...The ability to prospect and confirm information gives our sales teams a definite edge over our competition. They can be smarter about who they call on and the companies that they pursue. Once they identify companies that are in our wheelhouse[,] the prospecting insights are great triggers to get the ball rolling."

Katherine Coates, VP of Platform Sales Technology at Cenveo
"[Capital IQ is a] comprehensive database on companies (public and private) [and it] provides a good tearsheet view with relevant info. Also has strong historical financial data, comps and a very good SEC filings section."

Vaibhav Rikhye, Strategic Operations at Uber
"Our marketing firm has been a customer of Lead411 for [more than] a decade. We've compared several other data sources for our marketing campaigns and none of them provide the same level of company insight. Instead of just randomly purchasing names in a spreadsheet, Lead411 gives marketers the ability to select companies based on critical business events such as a merger, or acquisition. This level of insight is priceless and can't be found anywhere else."

Jordan Way, Marketing Specialist and Account Manager at Proven Systems Corp.
"Datanyze allowed our lead generation efforts to be scalable and effective by providing actionable and up to date information on companies and contacts that were a good fit for our product. I love being able to pull a list of companies that are using a competitor's solution and reach out with targeted messaging."

Kelsey Barber, Technical Sales Consultant at Yesware
"IKO [System] provides me with social listening capabilities as part of my social selling strategy. It enables me to create leads, get wider and deeper in accounts as well as support sales pursuits."

Tim Hughes, UK Business Development Director at Oracle
"With Gravitocity...information is highly accurate and in a format which allows me to run email campaigns and understand the effectiveness of the campaigns. Finally a tool for sales [teams that] actually increases their productivity, makes marketing easier and provides management valuable insight."

Steven Capelli, Strategic Advisor and Board Member at various companies
"Unomy gives us so much information about the companies we care about, the right data at the right moment. Let us instant access to millions of top quality company profiles and business contacts and emails all in one place. Unomy makes it incredibly easy to prospect within a territory. I can instantly download multiple contacts into my CRM which allows me to quickly run targeted campaigns to specific buyers based on industry, location, job-title, etc."

Michael Zrihen, Director of Marketing at Volico Hosting
Satisfaction rankings are generated from the user reviews, and market presence is calculated from vendor size, market share, and social impact. Based on a combination of these scores, each software solution is categorized as a Leader, High Performer, Contender, or Niche.
Premium research on sales intelligence tools can be purchased on the site for $599. This offers the original data for filtering and weighting, as well as individual profiles of each platform with the most helpful positive and negative reviews, detailed company information, user satisfaction ratings, feature scores and customer metrics. Future refreshes of the GridSM will provide updated rankings based on the latest reviews and social data.
Be sure to check out the new GridSM for the best sales intelligence tools and subscribe to the premium research.
_______________
About G2 Crowd, Inc.
G2 Crowd, the world's leading business software review platform, leverages its 41,000-plus user reviews to drive better purchasing decisions. Technology buyers, investors, and analysts use the site to compare and select the best software based on peer reviews and synthesized social data. Co-founded by the founder and former executives from SaaS leader BigMachines and backed by roughly $12 million in capital, G2 Crowd aims to bring authenticity and transparency to business technology research. For more information, go to G2Crowd.com.