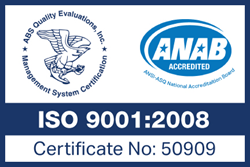 Houston, TX (PRWEB) September 24, 2015
Servermonkey is proud to announce receipt of three distinguishing certifications: ISO 9001:2008, ISO 14001:2004 and OHSAS 18001:2007. By implementing an integrated management system that encompasses quality, environmental, and health and safety, Servermonkey ensures that all aspects of its business are being monitored and improved.
ISO 9001:2008 covers quality management systems and having the necessary processes in place to drive customer satisfaction and continual improvement. ISO 14001:2004 focuses on environmental aspects and their significance, making certain that the operation is adhering to the appropriate laws and regulations and implementing green and sustainable practices. OHSAS 18001:2007 covers the monitoring and measurement of risks and hazards related to health and safety in the workplace. Servermonkey values its employees and makes their safety and well-being a high priority.
With these certifications, Servermonkey continues to push towards its goal of 100% safe and environmentally friendly services with 100% customer satisfaction. CEO, Layla Wright, says, "Our customers count on us for quality. Our integrated management system will enable growth while keeping the focus on quality and continuous improvement throughout the organization."
About Servermonkey - Servermonkey (http://www.servermonkey.com) provides new and pre-owned IT hardware including servers, networking equipment, workstations, laptops, and desktops. Customers of all sizes, both small and large enterprise, utilize our trained engineers and technicians to conduct on-site services on a global scale.
Servermonkey's value-added data center services include IT Asset Decommission and Disposition, Asset Recovery and Spare Parts Harvesting, Kitting, and other customized programs designed to improve ROI on IT hardware. Our OHSAS 18001:2007, ISO 9001:2008 and ISO 14001:2004 certified headquarters is located in Houston, Texas, and we ship internationally through hubs in Amsterdam and Hong Kong.