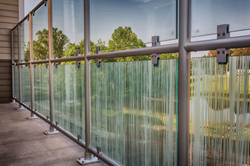 Both the architect and the owner of the facility are pleased with all aspects of the railing.
Cincinnati, Ohio (PRWEB) September 24, 2015
The Cottages of Overton County Nursing Home in Livingston, TN, working in conjunction with Knoxville based Lewis Group Architects was in search of a railing system that provided a stable safety barrier around their outdoor observation deck. The project called for a system that could withstand wind speeds of 90 mph per Tennessee building code, without interfering with the picturesque view. After reaching out to several railing manufacturers who could not satisfy the wind speed challenge; they specified an Interna-Rail® railing system, designed and built by Hollaender Manufacturing out of Cincinnati, Ohio.
Planners of this project wanted all patrons to feel comfortable approaching the edge of the deck which stands 12 ft. above the ground. Lewis Group Architect's solution was to make the overall height of the railing 6 ft. instead of the code height of 3 ft. 6 in., install ½ in. thick Goldray's Ceramic Frit tempered glass in the bottom half of the railing frame, and ½ in. thick clear laminated glass infill panels in the top half of the frame. This assured maximum viewing area from the deck, while providing a tangible feeling of security. Hollaender® specified the glass thicknesses to meet code and also provided oversized posts and mounting flanges to help meet the 90 mph wind speed specifications.
The contractor who performed the installation praised the Interna-Rail® system as being "well thought out, and took less time to install than anticipated." After completion of the project Lewis Group Architect, Greg Lusk, also stated that "Both the architect and the owner of the facility are pleased with all aspects of the railing."
Hollaender's® Interna-Rail® handrail system is an in-line fitting based system designed to combine the clean look of welded rail with all the benefits of a mechanical system. Interna-Rail® systems can be designed to meet any building code and are being used throughout the world in architectural, public works, and stadium applications.
About Hollaender Manufacturing
Hollaender is a manufacturer and marketer of aluminum structural pipe fittings, aluminum pipe, as well as final assemblies that use these components.
Hollaender is also a US market leader in the design and manufacture of complete architectural railing systems, often called "Decorative Metal Railing Systems."
Hollaender components are used in the design and build of handrail, guardrail and safety rail systems as well as a wide variety of unique modular pipe and fitting based structures for commercial, residential, public works and industrial applications, as well for retail store fixtures and other structural applications. These components and systems are marketed under the trademarked brands Speed-Rail® and Interna-Rail®. Hollaender also offers consultation, design, and project management services.