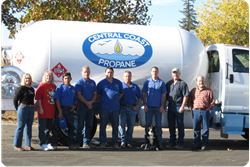 Paso Robles, Calif (PRWEB) October 15, 2015
Paso Robles propane company Central Coast Propane released a report this week regarding propane safety. This heavy, flammable gas, C3H8, is a by-product of crude oil and natural gas production and is used for hot water heating, cooking, heating and many other uses. Propane is naturally odorless; for this reason, an odorant is added to the gas to alert customers of a leak. Some people will say that it smells like rotten eggs.
Despite the strong odor, some people cannot smell a propane gas leak. People that cannot smell a gas leak can include: the elderly, users of alcohol, drugs or tobacco, or folks with colds, allergies, and sinusitis. Even if you don't fall under one of these categories, it is best to have a propane gas detector; anyone who uses propane indoors should have one installed.
If you smell a gas leak or a propane gas detector announces the presence of gas; then do the following:

Distinguish all smoking materials and open flames including candles.
DO NOT turn any electrical switches on or off.
DO NOT light any matches or lighters.
DO NOT use a phone in the space where you smell the odor.
NOTE: Any spark or static electricity in the area could ignite the gas.
The next steps are:

Get everyone out of the building or enclosed area.
Shut off all gas supply valves outside the building and at the tank.
If possible, use a cell phone or a neighbor's phone and call 911 and your propane supplier.
DO NOT go back into the building.
Wait for your propane company to repair the leak and place your gas appliances back in service.
Central Coast Propane is the leading Paso Robles propane provider. Call today at (805) 237-1001, or visit their website at centralcoastpropane.com.
Central Coast Propane
6260 Monterey Rd, Paso Robles, CA 93446
(805) 237-1001
Press release by Paso Robles advertising and marketing company Access Publishing, 806 9th Street, #2D, Atascadero, CA 93446 (805) 226-9890.