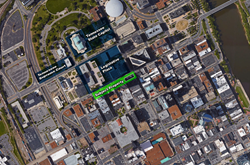 We believe the combination of a very motivated seller, great property and the online auction process will deliver exceptional results.
Nashville, Tennesee (PRWEB) September 24, 2015
Located in the heart of the Nashville CBD, the CORFACbid auction, powered by FRE.com, of two floors of office condos has created a buzz with buyers. The two floors at 501 Union Street, offer plenty of office space, conference rooms, break rooms and other amenities with a starting bid that is far below current market pricing per square footage. The opportunity to purchase the highly desirable offices, just blocks from the State Capitol and Federal, State and Local Courthouses, have made the 2nd and 6th floors of this building particularly attractive to legal firms, lobbying firms, non-profits and other professional service companies.
The sellers' decision to employ the online auction process was based upon their desire for an accelerated sale cycle by setting auction terms that remove the possibility of lengthy negotiations, re-trading and contingencies; as well as the broad exposure an auction delivers, allowing any buyer interested in Nashville office space to participate conveniently through the online bidding process.
Property Details
6th floor

±9,424 square feet
Conference room
Store room, copier/work room
Break room/kitchenette
Lobby with reception area
Minimum Bid: $630,000 ($66.85 p/sf)
2nd floor

±6,924 square feet
Offices/cubicles
Break room
Minimum Bid: $325,000 ($46.94 p/sf)
Important property documents, additional photos and auction information, such as terms and conditions of sale, can be downloaded from the auction property page at CORFACbid.com/203 The deadline to submit bids is October 15, 2015 and broker participation is offered.
Property tours can be arranged with the auction manager whose details are on the website.
CORFACbid is the online auction platform for CORFAC International and powered by the advanced technology of FRE.com. Combining the market knowledge, insight and professional resources of CORFAC with the industry-leading auction technology of FRE.com, CORFACbid delivers an alternative sales option in a fair, transparent and secure auction process.
LFC Group of Companies
For more than three decades, the LFC Group of Companies has been a leader in the real estate auction industry, beginning with the traditional, outcry auction events and pioneering the transition to 100% online auctions. Working with clients across the globe such as real estate developers, financial institutions, community and investment banks, private investors, private equity funds and government agencies, the LFC Group of Companies has sold billions of dollars' worth of real estate by providing a complete suite of real estate disposition strategies and auction marketing programs. FRE.com is owned and managed by LFC Internet Marketing, Inc., a member of the LFC Group of Companies. http://www.LFC.com
Media Contact: Kelly Lovegrove – LFC Communications, Inc.
Phone: +1 949 706 6113
Email: klovegrove(at)lfc(dot)com