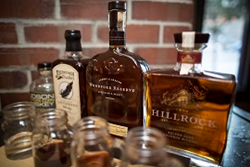 Boston, MA (PRWEB) September 24, 2015
The Boxer Boston, a member of the Independent Collection, a growing collection of intimate lifestyle hotels, is now offering a unique and savory combination of bourbon flights and burgers at its signature modern American restaurant Finch. Created to offer diners a well-rounded sampling of fine bourbon, the flavors were designed to play off notes from the barrels and casting of the locally distilled bourbon for a meal that is unmatched in Boston.
Finch now serves two different sets of flights, with each pour containing 1.25 ounces of carefully selected whiskey with the option for guests to add the Bourbon Burger for an additional 10 dollars.
Crafty 101 ($48) includes:

Uprising: The American single whiskey distilled from a stout beer uses classic American ale yeast and traditional stout malts.
Koval: This style of white whiskey contains peppery and floral notes, and has historical roots — George Washington made it in his Virginia distillery back in 1797.
Redemption Rye: 95% rye-aged in charred new oak barrels, this whiskey brings back the feisty spirit at a bold 92-proof.
WhistlePig: Sourced from WhistlePig farm in Storeham, VT, this whiskey contains a variety of notes including almond, vanilla, bitter dark chocolate, fresh mint leaves and honey oats.
Not for Novices ($58) includes:

Hudson Corn: An unmatched indulgence, this whiskey is compellingly silky, smooth and creamy yet clean, perfect simply chilled or for recreating the classic Manhattan.
Journeymen: A mix of rye and wheat, Journeymen is matured in new, white oak-charred, 15-gallon barrels for the best balance of flavor.
Woodford Reserve: Appearing in clean, honey amber, this whiskey is rich with complex citrus, cinnamon and cocoa flavors for a silky smooth finish.
Hillrock: Dubbed as the world's first "solera"-aged bourbon, a system where small portions of whiskey are periodically removed and new whiskey is added, the result is this caramel, fruity whiskey with an elegant floral note.
The Bourbon Burger, which can be added to either flight or ordered as an entrée on the regular menu, is smothered in a house-made caramelized onion and bourbon sauce, made from a local South Boston whiskey, and topped with lettuce, tomato, blue cheese and shoestring French fried onions on a lightly toasted brioche bun. A side of The Boxer's very own "Finch chips," a trinity of baked, purple and sweet potatoes, accompanies this messy and ultra-comforting burger.
For more information on The Boxer, please visit http://www.theboxerboston.com.
###
About The Boxer: The Boxer is a full service boutique hotel located in the heart of downtown Boston, near TD Garden, Mass General Hospital and the North End. The 80-room hotel is uniquely modern and eclectic with echoes of Boston in its design, and tells its story through design, artwork, distinguished standards, and most importantly, personalized and intuitive service. Following an extensive renovation and rebranding initiative, HHM's Independent Collection unveiled its new hotel in May of 2013, along with its new bar and restaurant, Finch. The Boxer name is symbolic of, and celebrates, the independent spirit of individuals who stand strong for their beliefs, bringing forth the very essence of Boston as a proud, loyal city with an unshakeable sense of itself and its significance in history.
About Independent Collection Hotels: The IC is a growing collection of cultivated and intimate lifestyle hotels located in unique residential neighborhoods of gateway cities across the US. Founded in New York in Tribeca and then Brooklyn, it has grown to Boston's West End, Midtown Village in Philadelphia, Washington's Capitol Hill, Georgetown, and Dupont Circle, down to Miami's South Beach, and west to Santa Barbara across the last five years. This distinctive hotel concept is renowned for its simple sophistication, authentic connection to local communities and personalized service. Independent Collection hotels are created for the independently minded traveler and invite guests to experience the true spirit of the city. For more information on Independent Collection, please visit http://www.independentcollection.com