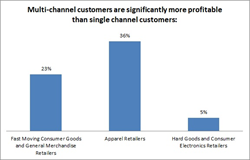 In just one short year, Hard Goods and Consumer Electronics retailers have seen the profits from mutli-channel shoppers drop significantly
Miami, FL (PRWEB) September 24, 2015
Retail Systems Research, LLC today released its findings from its 2015 Benchmark Report, Omni-Channel 2015: Taking Time, Money, Commitment And Technology. The report, based on a survey of 101 retailers, found that the profit boon gained from cross-channel shoppers has virtually disappeared in three short years. The research is available for free download (free registration required).
"It was amazing to discover just how much the profitability boon has eroded, particularly in Hard Goods and Consumer Electronics," reports Paula Rosenblum, managing partner at RSR Research and co-author of the report. "In just one short year, the percentage of respondents selling those products who reported their multi-channel shoppers are significantly more profitable dropped from 41% to 5%."
Key Findings include:

Maturity in digital commerce does not equate to leadership in an omni-channel world. Retailers who have been involved in desktop eCommerce longer tend to lag later adopters in omni-channel technologies.
The influence of digital channels on in-store sales continues to rise. Thirty-six percent of apparel retailers report between a quarter to half of their store sales are influenced by digital channels, and another 38% report more than half their store sales are similarly influenced.
Despite the recognition of digital influence on store sales, fewer than half of respondents report synchronization of ANY process, from advertising to inventory visibility across their selling and product information channels.
Omni-Channel 2015: Taking Time, Money, Commitment And Technology contains analysis of the business drivers, opportunities, and organizational constraints surrounding cross-channel processes and technologies in retail. It also offers baseline recommendations for taking the best advantage of digital channels, and taking a step-wise approach to get to cross-channel parity. The report is part of RSR Research's ongoing efforts to provide market intelligence on retail technology trends, is sponsored by hybris software, an SAP Company, and can be downloaded here:
http://www.rsrresearch.com/2015/09/23/omni-channel-2015-taking-time-money-commitment-and-technology/
About RSR Research: Retail Systems Research ("RSR") is the only research company run by retailers for the retail industry. RSR provides insight into business and technology challenges facing the extended retail industry, and thought leadership and advice on navigating these challenges for specific companies and the industry at large. To learn more about RSR, visit http://www.rsrresearch.com.
Contact:
RSR Research, LLC
Linda Wolfe, 774-284-4679
lwolfe(at)rsrresearch(dot)com