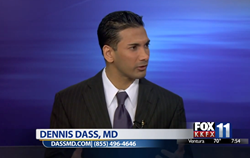 Beverly Hills, CA (PRWEB) September 24, 2015
"As usual the stars looked their best at the Prime Time Emmy Awards as they made their entrances on the red carpet," says plastic surgeon Dr. Dennis Dass. "Some celebrities prepare a few months ahead of the awards by having advanced 'mini' cosmetic treatments to look younger and even more attractive in time for the awards ceremonies, and now anyone can benefit from the same popular minimally invasive treatments to turn back the clock." Dr. Dass shows how these "beauty secrets of the stars" can improve a person's appearance in this recent this interview on Fox Morning News: https://youtu.be/uSymkqLKwhM
"Minimally invasive laser treatments to improve the skin's appearance, a 'Mini-Neck Lift' to tighten skin on the neckline and adding or restoring volume to the cheeks and face are 3 easy fixes that celebrities have, and these treatments can help anyone look younger and more attractive with minimal downtime," says Dr. Dass. "Like most people, celebrities have hectic schedules but they need to look their best at all times. That's why these types of treatments have become so popular."
"The hottest new laser is called 'PicoSure', says Dr. Dass. "lt's a minimally invasive way to treat sun damage, fine wrinkles and pigmented lesions and the treatments improve the skin's texture while increasing collagen and tightening the skin. With PicoSure laser treatments my patients can return to work the next day, so there is very little downtime."
"A sagging neck or double chin can be treated with a the 'Mini-Neck Lift' technique that can restore youthful neck contours without going under the knife," says Dr. Dass. "This technique can improve the appearance of a double chin and dramatically improve the jaw line. The Mini-Neck Lift is performed through a very small incision made under the chin that hides very well and is nearly imperceptible, so downtime is cut to a minimum. "Sagging skin and the loss of a well-defined jawline can make a person look older than he or she feels. In the past, the only way to lift and tighten the neck adequately was through more invasive surgery such as a facelift."
The procedure is performed with the Smart Lipo system which utilizes a thin fiber-optic laser to tighten skin safely and effectively, done with the patient awake. After a local anesthetic is introduced to numb the areas, Smart Lipo is used to remove small amounts of fat in the neck. Then, a thin fiber optic wire is inserted through the small entry point and a beam of light emitted from the laser is directed to the fat and water in the skin. Controlled laser energy heats the dermis (the deeper layer of the skin) while precisely melting fat. "This spurs new collagen growth and promotes noticeable skin tightening," says Dr. Dass.
Facial volume rejuvenation with fillers such as "Voluma" and "Juvederm" can restore youthful proportions to the face and create beautiful, more prominent cheekbones," says Dr. Dass.
"Facial volume slowly diminishes as men and women age, causing a 'hollowed out' look in the cheek areas, around the eyes and in other areas of the face," says Dr. Dass. "We can restore the skin's underlying foundation with facial fillers to bring back the structure and youthful characteristics of the face. Facial fillers such as Juvederm, Radiesse and Voluma may be used singly or in combination," he says.
Dr. Dennis Dass is a board certified plastic surgeon who practices in Beverly Hills, CA. For more information visit http://www.DassMD.com and call 855-496-4646.