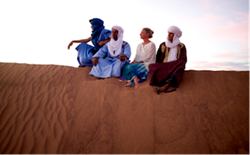 I had the desire to create an experience where people can open up, share and disconnect from the technological and societal pressures of our globalized culture.
London, UK (PRWEB) September 25, 2015
RESTIVAL, a visionary fusion of a Retreat and a Festival, launches this November in the Sahara Desert, Morocco.
This uniquely new experience runs from November 14-20, 2015 and invites people to discover their inner spark that comes as a result of pulling the plug on technology and participating in very carefully curated experiences. The selection of location for the first Restival is no accident – the Sahara is one of the most natural, remote and unspoilt places on earth where there is simply, no wi-fi. A place where the earth's energy is pure and enables people to re-connect with themselves without the "noise" of the outside world to distract them.
Founded by experiential producer, Caroline Jones, she says, "I had the desire to create an experience where people can open up, share and disconnect from the technological and societal pressures of our globalized culture. Restival was created from repeated requests from friends, family and colleagues to manifest an anti-festival with an off switch. The new malaise that cuts across generations is one of managing a 24/7 connection and how this effects everything from our sleep, social interaction and creativity."
Appealing to adventurous spirits and anyone who is feeling 'stuck' or moving through a period of transformation (or for someone who wants to change and doesn't have the tools), Restival will provide individuals the freedom to unwind, explore, discover and develop new elements of their creative nature, guided by inspirational contributors such as Seymour Space Paris, Morning Gloryville, Ripe and Ready, The Bazaar Bohemian and artist Boris Hoppek - amongst others.
The program will include a mix of art, writing and music workshops, astronomy, storytelling, poetry, dance, yoga, meditation and mindfulness. A desert adventure and the opportunity to meet and engage with the nomadic tribes is also available for spirits with a taste for the unknown and a sense of wanderlust. Evenings will include astronomy, a movie night, traditional Touareg music and storytelling around the campfire by BBC journalist, Richard Hamilton from his magical book, The Last of the Storytellers.
Printed Pattern People have designed and developed a desert chic fashion collection, specifically for Restival.
Restival will take place at eco-lux Camp Adounia, set in the majestic dunes of the Sahara Desert. Access from Marrakech is by 4x4s winding through the Atlas Mountains, via the Tizi-n-Tichka pass, descending along the Draa Valley into the desert camp.
The trip ends at Ait Ben Haddou, a deserted Kasbah where Restival guests will culminate at the top of this UNESCO World Heritage Site at sunset, where Morning Gloryville will create an unforgettable moment in a beautiful setting.
Creativity and inspiration lies within us all, we just need the chance to unplug and re-connect with ourselves and Restival gives people this opportunity.
Prices start from $2,300 per person for 5 nights all-inclusive based on sharing a tent. Flights are not included.
Further Restivals are planned in the UK in May 2016, the USA in July 2016 and Morocco in November 2016.
For details of the program, inquiries and bookings, visit http://www.restival.global Also follow us on Instagram @restivalsahara. For further information on RESTIVAL and the contributors, contact Caroline Jones on mobile number +44 (0)7802 456744 or email caroline(at)missjonesandco(dot)com.