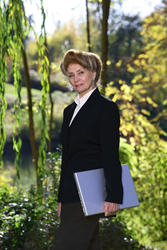 Grants Pass, OR (PRWEB) September 24, 2015
Climate change is a global water issue that threatens every living organism, according to radio host and fresh water advocate Sharon Kleyne. Climate change says Kleyne, is making millions of people ill, the poorest and most vulnerable are suffering most, and political leaders hold meetings, debate endlessly and attempt to prevail over their opponents. Kleyne's Power of Water® radio show and her recently announced Water Life Science® research and education agenda, is attempting to depoliticize and add common sense and holistic science to the climate change debate.
Kleyne's views on climate change politics, climate change and health, water, the atmosphere, satellite data collection and long term climate prediction will be the topic of her Sharon Kleyne Hour™ Power of Water® radio show of September 28, 2015.
The globally syndicated broadcast is heard weekly on VoiceAmerica (Health and Wellness and Variety channels) and Apple iTunes. The education oriented show is sponsored by Bio-Logic Aqua® Research – Water Life Science®, founded by Kleyne and specializing in fresh water, the atmosphere, body surface evaporation and dehydration. The Research Center's signature product is Nature's Tears® EyeMist® for dry eye.
Water – on the ground, under the ground and in the atmosphere – is the basis for all life on Earth, says Kleyne. Only a fragile combination of atmospheric anomalies prevents our life-giving water from completely evaporating and floating off into outer space. Were the fragile balance to change significantly, the solution would not lie in liberal or conservative political agendas. It would lie in accurate and comprehensive data collection, a unified global effort and definitive action.
Humans are dependent on atmospheric water vapor for their "breath of life." For this reason, Kleyne believes, human health research – particularly the body's processing of water – is critical to identifying areas where climate change is most potentially harmful and where human intervention can be most effective.
The primary focus of Kleyne's "Water Life Science®" is body water evaporation and health issues related to climate change, extended drought and atmospheric pollution. Every structure and function of the human body depends on water and could be harmed by changing atmospheric conditions that accelerate the rate of water evaporation from inside the body.
The human body, Kleyne notes, is constantly taking in new water, through drinking and dermal absorption, using the water, and eliminating waste water through body surface evaporation and other processes. The human body, in fact, defines climate change. It is a component of Earth's large scale hydrological recycling system in which water falls to the ground as precipitation, is used to sustain life, and then evaporates back into the atmosphere to accumulate as clouds, moderate temperatures, filter out dangerous radiation and return as precipitation.
Both liberals and conservatives, according to Kleyne, have attempted to influence climate change research to further their own beliefs, ambitions and agendas. In the United States, says Kleyne, both sides base their views on information that is partially correct and partially incorrect. In our current political climate, says Kleyne, the objective is not to debate and compromise but to prevail. In this system right, wrong, truth and the legitimate concerns of the opposition are not relevant.
Liberals contend that climate change is inarguably proven, says Kleyne, while conservatives claim that long-term predictive computer models do not contain sufficient data to even draw a definitive conclusion, let alone offer a solution.
Kleyne's Water Life Science® approach would argue that the basis of any climate change evaluation must be data collection. Computer models are only as accurate as the data upon which they are based. More comprehensive data results in more accurate predictions and more effective solutions. Most scientist involved in long term climate prediction, according to Kleyne, would argue that the very best tool in their arsenal is NASA's Earth Observation Satellite program. Only the EOS program is able to detect and measure minute changes in vegetation patterns and human impact on a global scale.
And yet the NASA budget, and the EOS program have recently undergone a series of drastic budget cuts. This, according to Kleyne, represents politics as usual and does not represent common sense. ©2015 Bio-Logic Aqua® Research – Water Life Science. All rights reserved.