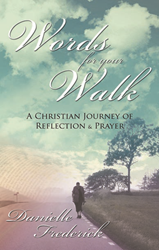 Reflect on the successes and stumbles in your Christian journey.
(PRWEB) September 25, 2015
Author Danielle Katzen implores Christian readers to get closer to God through prayers and spiritual reflections. Her new book, Words for Your Walk, features biblical passages and other sections that stir readers to relate selected scriptures to real-life circumstances, thus giving room for a deeper and more personal musings.
According to the author, "Words for Your Walk sets in motion a personal insight into your Christian journey as you reflect on specific words from the Bible and their respective scripture passages…. Whether you consider a reflection daily, weekly, or monthly, allow the Holy Spirit to speak to you during your devotions. Delve into thought-provoking questions. Hold a mirror to your everyday life and think about changes you can make to grow closer to God and flourish as a powerful witness for His kingdom."
Moreover, "Reflect on the successes and stumbles in your Christian journey. Learn from each aspect of your walk —repeat behaviors, thoughts, and actions that keep you persevering and change those that lead you astray. A few months, or even years later, you can reread Words for Your Walk and your journal to add reflections as your journey continues."
Words for Your Walk by Danielle Katzen is published by Infinity Publishing and is now available for purchase in both print and e-book versions.
About the author.
Danielle Katzen taught Sunday school and led story time for the neighborhood Good News Club during her teen years. Words for Your Walk—her first published book—returns Danielle to her roots of sharing the Christian message. She lives in rural Pennsylvania with her husband and daughter. She enjoys spending time with her family and reading God's Word for encouragement and strength.
Title: Words for Your Walk
Author: Danielle Katzen
Genre: Nonfiction/Religion
ISBN: 978-1-4958-0498-4
eISBN: 978-1-4958-0499-1
Pages: 58
Price: Paperback $9.95
eBook $ 4.95
Publication Date: February 26, 2015
Publisher: Infinity Publishing