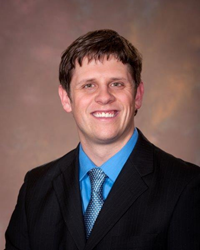 The bright minds and collaboration Filene's i3 Program creates is a powerhouse combination vital to improving the world of consumer finance. - David Snodgrass, Lake Trust President and CEO
Brighton, MI (PRWEB) September 24, 2015
Congratulations to Lake Trust Credit Union's Blake Woods on his recent selection into Filene Research Institute's prestigious i3 (Ideas, Innovation, Implementation) Program.
Filene does exciting research work to improve the member experience in the credit union industry; each i3 member (serving a two-year term) commits to ideating, building and testing concepts to improve the financial lives of millions of consumers. Historically, less than 20 percent of applicants are accepted into the program.
For the 2015 team, Blake was selected amongst 16 exceptional credit union innovators.
"Blake has been actively engaged with Filene for years and we're excited to see him bring his talents to the Filene i3 program," said Andrew Downin, innovation director at Filene. "He joins a long line of Lake Trust CU leaders who have helped build the future of cooperative finance through Filene i3, including David Snodgrass, Danielle Brehmer, and Andrea Mosher."
Ideas developed in Filene i3 have gone on to change state laws and save countless millions of dollars for credit unions.
"Our relationship with Filene and the i3 program has been an incredible experience," said Lake Trust President and CEO David Snodgrass. "We appreciate the insights, ideas, and prototypes i3 generates and the network to which the talent creates. Together, these bright minds and the collaboration the program generates is a powerhouse combination that's vital to improving the world of consumer finance. Blake is an important part of our team, and we're excited about this opportunity for him and our organization. "
Expect big ideas from these newest i3 members - you can check them out at filene.org.
Lake Trust Credit Union lives up to their name, with branches that stretch from Lake Michigan to Lake Huron. With over 167,000 members and $1.6 billion in assets, they're the fourth largest credit union in Michigan. By participating in and sponsoring nearly 100 events locally, they reach across the state to create stronger communities. Membership is open to anyone who lives, works, worships or attends school in their 35 county service area. Visit Lake Trust online at laketrust.org.