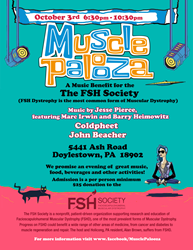 BOSTON (PRWEB) September 24, 2015
On October 3, 2015, music fans will gather for the 2nd Annual Musclepalooza Music Benefit Concert to raise critical funds for the FSH Society and muscular dystrophy research. The festive event will include music from John Beacher and Jesse Pierce featuring Barry Heimowitz. There will also be a live auction with passes to The Tonight Show with Jimmy Fallon, a JJ Watt autographed football and Sonos speakers. It will also feature the extraordinary opportunity to bid on tickets to the most-anticipated Super Bowl ever – Super Bowl 50, taking place at Levi's Stadium in Santa Clara, Calif., on Sunday, February 7, 2016. Four tickets will be up for auction at a retail value of $1,000 per ticket. The event is open to the public and all proceeds will benefit the award-winning non-profit, the FSH Society.
The benefit is being hosted by Alan Brown, a Holicong, PA resident who suffers from FSHD. Alan was diagnosed with FSHD when he was in his early twenties. He then went on to pursue a career as the director of project management at NFL Films, a subsidiary of the NFL and winner of 120 Emmys. "The FSH Society needs to ensure that it is funding research for a cure and also able to provide the patient support and advocacy we all depend on year after year," said Alan Brown. "So, when the FSH Society asked for help raising funds, I felt having a music benefit would be a fun way of raising both money and awareness for FSH."
FSHD, one of the most prevalent types of muscular dystrophy, is a degenerative muscle disease that causes progressive weakness, usually starting with the face, shoulder and arms, but can affect almost any skeletal muscle. FSHD affects approximately 870,000 people yet, currently, there is no treatment or cure.
"We are so grateful to have the support of someone like Alan in our FSH Society community," said June Kinoschita, executive director of the FSH Society. "Alan is the perfect example of someone who makes the most of living with FSHD. He makes it a priority to dedicate time to plan creative fundraisers that help support the FSH Society and bring awareness to FSHD."
What: Musclepalooza Concert: Performances from John Beacher and Jesse Pierce featuring Barry Heimowitz to benefit the FSH Society
Where: The Ellison's Barn
5441 Ash Road
Doylestown, PA 18902
When: Saturday, October 3, 2015
6:30p.m. –10:30p.m.
Ticket Information: Requested minimum donation for admission is $25
To register for the event, click here.
To bid for Super Bowl 50 tickets, or other items by proxy, please provide the FSH Society with written instructions on your maximum bid, and secure your bid by paying a 10 percent deposit by check or credit card by noon EST, October 2, 2015. The auction staff will bid on your behalf in increments above the next-highest bid until there is no one to out-bid you, or your maximum is reached, whichever comes first. If you don't win the item, your deposit will be returned/refunded in full. Email: doris.walsh(at)fshsociety.org; Phone 781-301-6651
To make a donation online to the FSH Society in support of Musclepalooza, please click here.
About FSH Society:
The FSH Society, founded in 1991 by two FSHD patients, is a world leader in combating muscular dystrophy. The non-profit has provided millions of dollars in seed grants to pioneering research worldwide, creating an international collaborative network of patients and researchers. The FSH Society seeks to serve as a source of information and support for all patients and families with FSHD; act as a driving force in the development of research directed towards treatments and ultimately a cure; and bring support to patients and research for FSHD through effective engagement of governmental and private sector organizations and entities. For seven consecutive years, the Society has received the Charity Navigator's four-star rating, the highest distinction held by less than two percent of non-profit organizations in the country. The FSH Society offers a community of support, news and information for FSHD patients and families through its website at http://www.fshsociety.org. For more information about FSHD, please contact the Society at 781-301-6649.
Press Contacts:
June Kinoshita: The FSH Society
781.301.6649; june.kinoshita(at)fshsociety.org
Theresa Masnik: SHIFT Communications
617.779.1871; FSHSociety(at)shiftcomm.com