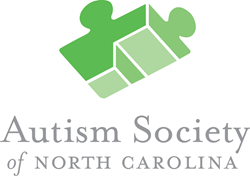 Winston-Salem, NC (PRWEB) September 24, 2015
The Autism Society of North Carolina (ASNC) and G.R.A.C.E. Ministries will present a free, full-day workshop titled "Autism and Other Developmental Disabilities: How Faith Communities Can Help" on Saturday, Oct. 24, in Winston-Salem. The program is supported by The Winston-Salem Foundation.
The workshop is aimed at clergy, church leaders, church members, and families of children with autism and other special needs.
Workshop objectives:

Understand autism and the challenges families face
Learn how faith communities can welcome and support families
Connect to local resources for help
Speakers will include:

Elizabeth R. Crais, PhD, CCC-SLP, ASHA Fellow Professor and Coordinator of Doctoral Studies, Division of Speech and Hearing
Rebecca Edmondson Pretzel, PhD, Associate Director and Director of Services, Carolina Institute for Developmental Disabilities
Louise Southern, M.Ed., BCBA, ASNC Associate Clinical Director
Wanda Curley, ASNC Autism Resource Specialist
The workshop, which will also feature a community panel, will run from 9 a.m. to 3:30 p.m. at Goler Memorial AME Zion Church, 620 N. Patterson Ave., Winston-Salem. Registration is free and includes lunch; participants are asked to register online by Oct. 14 at http://www.eventbrite.com/e/autism-how-faith-communities-can-help-tickets-18005545070.
"Autism and Other Developmental Disabilities: How Faith Communities Can Help" is made possible with generous funding from the Harriet Taylor Flynt Fund of The Winston-Salem Foundation, a community foundation that supports charitable programs in the greater Forsyth County area. Founded in 1919 with a $1,000 gift, it now administers approximately 1,300 funds and had total custodial assets of $384.3 million at the end of 2014. In 2014, the Foundation granted $24.8 million to charitable causes, over $2 million of which was through the Community Grants program. Learn more about the Foundation here: https://www.wsfoundation.org/.
Background:

Autism Spectrum Disorder (ASD) is a lifelong developmental disability that typically appears during the first three years of life. As many as 1 in 58 children may be diagnosed with ASD in North Carolina, according to a prevalence study by the CDC study of 8-year-old schoolchildren.
For more than 45 years, the Autism Society of North Carolina has worked to address areas of need and expand services for the autism community in North Carolina. ASNC works to directly improve the lives of individuals affected by autism by providing advocacy, education, and services. For more information, call 1-800-442-2762 or visit http://www.autismsociety-nc.org.