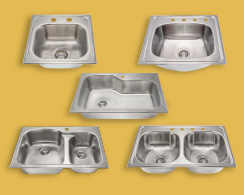 Toledo, OH (PRWEB) September 26, 2015
MR Direct announces today the debut of its new series of topmount stainless steel sinks for the kitchen. Manufactured in North America, this new collection is being introduced in five diverse styles, with several additional models in production and expected to be included soon.
Identified as the MX collection, these sinks offer consumers a choice between small or mid-size, single bowl models; and equal-sized, dual bowl designs. Comparing this fresh line of sinks to the previous assortment of topmounts offered by MR Direct, one finds that the MX collection offers the same superior quality, but with more thickness options and a significantly lower price.
All of the new premium-quality MX models are constructed of 300-series, cold-rolled stainless steel. The final step in their manufacturing process is the application of a brushed satin finish. This treatment of the surface not only adds to its attractiveness, but also masks any scratches which might occur over time. The steel thickness varies per model between 18, 20, and 24-gauge. Each sink has a slight ridge along its topmounted rim to curb water from overflowing onto the counter; and pre-drilled holes, one to four depending on the model, are provided along the back rims for the mounting of faucets and accessories. Sound-dampening pads on the exterior keep noise to a minimum.
Specifically, the new styles include: MX1515T – a small, 24-gauge, single bowl; MX2318T8 – a mid-size, 8-inch deep, 20-gauge, sing¬le bowl; MX2318T6 – a mid-size, 6-inch deep, 24-gauge, single bowl; MX502T8 ¬¬¬– an equal-size, 8-inch deep, 20-gauge, dual bowl; and MX502T6 – an equal-size, 6-inch deep, 24-gauge, dual bowl.
All MX models are shipped with a cutout template, installation hardware, and coverage under the MR Direct Limited Lifetime Warranty. This economy line of stainless steel topmounts proves to be big on form and function, but small on cost. More detailed information about these, and all MR Direct sinks, is available at http://www.mrdirectint.com.