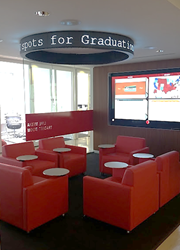 "Everything we do – and anything we create – must provide a significant business advantage to our retail clients. This makes them faster, more agile and much more efficient." - Michael Goldberg, CEO, Zimmerman Advertising
Boca Raton, FL, September 24, 2015 (PRWEB) September 24, 2015
Specializing in retail design strategy and disruptive design was key for Karen S. Herman, founder of Gustie Creative LLC, when the phone call came from Zimmerman Advertising to plan and design an industry first, a Live Media Trading Room, for the Fort Lauderdale headquarters of the retail growth machine.
"What Zimmerman was looking for was a custom designed environment that disrupted standard patterns of engagement," Ms. Herman said, "they wanted to create a deeply immersive, interactive room to share real-time information, quickly collaborate or do a deal, and foster new business opportunities. They wanted a Virtual Room."
These days, the availability of interactive technologies for corporate, commercial and retail companies, along with the employees or clients' need for greater interactivity and connectedness, is creating a demand for this specialized room.
"Everything we do – and anything we create – must provide a significant business advantage to our retail clients. This makes them faster, more agile and much more efficient," says Zimmerman CEO, Michael Goldberg.
Gustie Creative's research finds that the real-time need to see and work with data, the desire to create a shared social media experience, and ability to expand sales channels, are just a few of the market drivers leading companies like Zimmerman to make the investment in time, money and technology that a Virtual Room requires.
For the Live Media Trading Room, Gustie Creative's expertise in planning and design for highly specialized interior spaces led them to minimize lighting and custom design natural teak wall panels to match those in Zimmerman's executive suite. They specified cutting edge interactive video walls to be located inside the teak panels and a custom circular LED ticker that was ceiling mounted.
The company designed color blocked signage with luxury retail details and wrapped it around existing full height glass partitions. Leather chairs on wheels with tablet tables were selected instead of a typical centrally located conference table. "This is a key design change that a Virtual Room requires," Ms. Herman said. "Flexibility is extremely important in the room so collaboration can happen instantaneously. In the Live Media Trading Room, collaboration can occur as one single group or break up into a number of small groups, working together or separately; it is driven by the immediate needs of people using the room."
Gustie Creative called on industry leaders in LED ticker signage, video installation and content creation, and retail display signage, to complete their design and make Zimmerman's Live Media Trading Room work seamlessly.
A Virtual Room is one of twelve different types of Structures that Gustie Creative designs through disruptive retail. From Virtual Rooms, to Pop-Up Pods, to the increase in Shop-in-Shops, and growing interest in shipping container architecture, they see disruptive retail as a new market and value network that will continue to grow solidly. "The fact that Zimmerman Advertising saw the opportunity to create the Live Media Trading Room is quite telling. Most companies do not even know this opportunity exists," said Ms. Herman.
To help brands and businesses gain insight on disruptive retail, Gustie Creative is publishing an e-book called "The Definitive Guide to Disruptive Retail" in January 2016.
About Gustie Creative LLC
Gustie Creative (http://gustiecreative.com) designs unique brand experiences through disruptive retail. They are a full service design firm, retail design strategists, and design innovators. They are passionate about good design and creating connected interactions with all of their clients' omni-channel touch points to offer unique user experiences for consumers. Clients include Zimmerman Advertising, Wind2Share, Bagel Twins, and XploreAR.
About Zimmerman Advertising
Zimmerman Advertising, an Omnicom Group company, is the leading integrated retail agency in the country. Zimmerman's clients represent some of the most prominent retail brands in the country, including hhgregg, Nissan, Party City, Dunkin' Donuts, Chico's, Tire Kingdom, AutoNation, Firehouse Subs, Boston Market, The Fresh Market and Michaels. Headquartered in South Florida, the agency has retail service offices throughout the country, including New York, Los Angeles, Chicago, Dallas, Atlanta, and Nashville. For information on the agency, visit http://www.zadv.com.