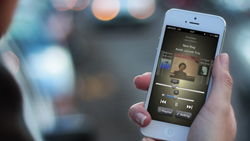 (PRWEB) September 25, 2015
Everlisten was featured on NewsWatch as part of its monthly AppWatch, which takes a look at the latest and coolest applications on the market for iOS, Android, and Windows. Joe Toohey, the host of AppWatch and technology expert, conducted the app review and shared with viewers how this app gives people a new listening experience for their music.
Now, with digital music there's no limit to the amount of apps available to listen to music. Technology has allowed people to come so much farther than an MP3 player that plays albums from beginning to end. Well, Everlisten is a new app that allows people to enjoy a completely new listening experience.
Everlisten is like a personal DJ. With this app, users can create their own playlist from the music on their iOS device. Next is where the fun starts - users set a playback duration, meaning how long they want each song to play for. It will then play only that length of the song, one after another from their playlist. For example, if users set the duration to 30 seconds users can listen to 100 songs in 50 minutes.
The Everlisten – Lite Edition is free but only allows users to create one playlist consisting of 10 songs. Users can buy the full version for $1.99 for unlimited playlists and songs.
To learn more, visit https://itunes.apple.com/us/app/everlisten-lite-edition/id630294442?mt=8 today.
About NewsWatch
NewsWatch is a weekly 30-minute consumer oriented television show that airs on the Discovery Channel and ION Network. NewsWatch regularly features top technology products and services, mobile applications for iOS, Android, and Windows devices, unique and beautiful travel destinations around the world, health and medical tips, and entertainment interviews on the show. NewsWatch airs on the Discovery Channel at 7:00 – 7:30 AM ET/PT.
NewsWatch is located in the greater Washington, DC area and has been on air for over 25 years. For more information or to watch the most recent episode, visit http://newswatchtv.com/appwatch.html.