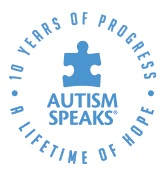 New York, N.Y. (PRWEB) September 24, 2015
GAP and Autism Speaks are collaborating on two programs to raise awareness and funds, and to give young adults on the autism spectrum an opportunity to test their job skills. Both initiatives are the result of GAP's ongoing partnership with Autism Speaks, the world's leading autism science and advocacy organization.
On September 24, fifteen select GAP stores across the country will participate in GAP Shadow Day 2015, hosting in-store job shadowing for young adults on the spectrum to learn the skill sets of GAP employees. Students will rotate throughout the store, helping at the registers, stocking inventory, and performing other duties alongside GAP mentors.
On September 25, an annual fundraising and awareness campaign begins. For the first time, almost 600 GAP stores throughout the United States will participate in Closing the GAP on Autism. From September 25 through September 27, customers who contribute to Autism Speaks with a donation of any amount at Gap registers will receive a coupon for 25 percent off a future purchase. Coupons can be used from September 29 through October 4.
Donations help fund research into the causes and treatment of autism, as well as Autism Speaks' Family Services resources, such as tool kits for every stage of life, community grants, housing information, and other assistance.
GAP employees will also volunteer their time during the campaign, distributing valuable information about resources for those affected by autism spectrum disorder.
Click HERE to find all GAP locations in the U.S.
About GAP
Gap is one of the world's most iconic apparel and accessories brands and the authority on American casual style. Founded in San Francisco in 1969, Gap's collections are designed to build the foundation of modern wardrobes – all things denim, classic white shirts, khakis and must-have trends. Beginning with the first international store in London in 1987, Gap continues to connect with customers online and across the brand's more than 1,700 company-operated and franchise retail locations around the world. Gap includes Women's and Men's apparel and accessories, GapKids, babyGap, GapMaternity, GapBody and GapFit collections. The brand also serves value-conscious customers with exclusively-designed collections for Gap Outlet and Gap Factory Stores. Gap is the namesake brand for leading global specialty retailer, Gap Inc. (NYSE: GPS) which includes Gap, Banana Republic, Old Navy, Athleta and Intermix. For more information, please visit http://www.gapinc.com.
About Autism
Autism is a general term used to describe a group of complex developmental brain disorders – known as the autism spectrum – caused by a combination of genes and environmental influences. These disorders are characterized, in varying degrees, by communication difficulties, social and behavioral challenges, and repetitive behaviors. An estimated 1 in 68 children in the U.S. is on the autism spectrum.
About Autism Speaks
Autism Speaks is the world's leading autism science and advocacy organization. It is dedicated to funding research into the causes, prevention, treatments, and a cure for autism; increasing awareness of autism spectrum disorders; and advocating for the needs of individuals with autism and their families. Autism Speaks was founded in February 2005 by Suzanne and Bob Wright, the grandparents of a child with autism. Mr. Wright is the former vice chairman of General Electric and chief executive officer of NBC and NBC Universal. Since its inception, Autism Speaks has committed $560 million to its mission, the majority in science and medical research. Each year, Walk Now for Autism Speaks events are held in nearly 100 cities across North America. On the global front, Autism Speaks has established partnerships in more than 70 countries on five continents to foster international research, services and awareness. To learn more about Autism Speaks, please visit AutismSpeaks.org.