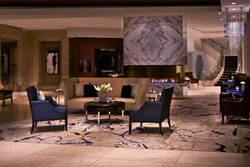 CHICAGO, IL (PRWEB) September 24, 2015
DiamondRock Hospitality Co., Crescent Hotels & Resorts, and Starwood Hotels & Resorts proudly announce the appointment of Kim Corrigan as General Manager of The Gwen, a Luxury Collection Hotel, Chicago. Bringing more than 30 years of hospitality experience to the role, Ms. Corrigan will be overseeing all aspects — from operations to revenue strategy to sales and marketing — of the 300-room Magnificent Mile hotel, the first in Chicago to join Starwood's prestigious brand, The Luxury Collection Hotels & Resorts.
"Kim's extensive expertise and leadership, combined with her personal commitment to excellence, will guide her in achieving high levels of success for the newly rebranded Luxury Collection hotel," said Michael George, CEO of Crescent Hotels & Resorts. "Her creative mindset makes her the perfect addition to bring The Gwen's art, and 1930s-themed branding, to life."
Ms. Corrigan recently served as General Manager of the historic Blackstone Renaissance Hotel in Chicago. During her three-year tenure there, she was recognized by the Illinois Hotel & Lodging Association as the 2014 Hotelier of the Year for the Greater Chicagoland Area. Prior to her move to the Midwest, Ms. Corrigan resided in Denver, where she spent eight years as General Manager with various Hilton properties, including The Curtis in downtown, and almost a decade in Atlantic City, NJ, where she earned executive-level experience in operations at iconic casino properties, such as the Trump Taj Mahal, Merv Griffin's Casino Hotel, and Bally's Grand Casino Hotel.
A graduate of Cornell University's School of Hotel Administration, Ms. Corrigan began her role at The Gwen just prior to the property's September 1st transition to Starwood from the Conrad Chicago. Perfectly situated in the heart of the Windy City, The Gwen is housed within the landmark McGraw-Hill Building on the Magnificent Mile. The reimagined icon is adorned with sculptural panels created in 1929 by pioneering artist Gwen Lux, the hotel's namesake. Embracing her artistic spirit, The Gwen celebrates the energy and glamour of Chicago in the Art Deco era, with details such as a Prohibition Porter mixologist and an Artist's Table dining experience.
Surrounded by premier shopping, The Gwen, poised to deliver a new level of luxury, is connected to The Shops at North Bridge, providing enclosed access to upscale retailers, such as Nordstrom Michigan Avenue, Stuart Weitzman, and Hugo Boss. It is also minutes from The Loop, Chicago's business district, as well as world-class dining, and exciting cultural and entertainment hotpots.
For more information or to be one of the first to experience The Gwen, visit http://www.TheGwenChicago.com or call (312) 645-1500.
###
ABOUT DIAMONDROCK HOSPITALITY COMPANY
DiamondRock Hospitality Company is a self-advised real estate investment trust (REIT) that is an owner of a leading portfolio of geographically diversified hotels concentrated in top gateway markets and destination resort locations. The Company owns 29 premium hotels with approximately 10,900 rooms. The Company has strategically positioned its hotels to be operated both under leading global brands, such as Hilton, Marriott, and Westin, and boutique hotels in the lifestyle segment. For further information on the Company and its portfolio, please visit DiamondRock Hospitality Company's website at http://www.drhc.com.
ABOUT CRESCENT HOTELS & RESORTS
Crescent Hotels & Resorts is nationally recognized, top-5 operator of hotels and resorts. Crescent currently operates over 100 hotels and resorts in 36 states in the US and 4 provinces in Canada. Crescent is one of the few elite management companies approved to operate upper-upscale and luxury hotels under the brand families of Marriott, Hilton, Starwood, Hyatt and IHG. Crescent also operates a collection of legendary independent hotels and resorts. Crescent's clients are made up of hotel REITs, private equity firms and major developers. For more information, please visit http://www.chrco.com.
ABOUT THE LUXURY COLLECTION® HOTELS & RESORTS
The Luxury Collection® brand is comprised of world-renowned hotels and resorts offering unique, authentic experiences that evoke lasting, treasured memories. For the global explorer, The Luxury Collection offers a gateway to the world's most exciting and desirable destinations. Each hotel and resort is a unique and cherished expression of its location; a portal to the destination's indigenous charms and treasures. Magnificent decor, spectacular settings, impeccable service and the latest modern conveniences combine to provide a uniquely enriching experience. Originated in 1906 under the CIGA® brand as a collection of Europe's most celebrated and iconic properties, today The Luxury Collection brand is a glittering ensemble of nearly 100 of the world's finest hotels and resorts in more than 30 countries in bustling cities and spectacular destinations around the world. The Luxury Collection includes award-winning properties that continuously exceed guest expectations by offering unparalleled service, style and class while celebrating each hotel's distinctive heritage and unique character. All of these hotels, many of them centuries old, are internationally recognized as being among the world's finest. For more information, please visit http://www.luxurycollection.com.