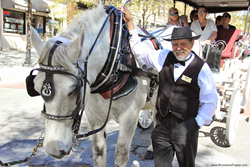 37th Annual Riverfest on the Cape Fear River
Wilmington, North Carolina (PRWEB) September 25, 2015
According to Real Estate Scorecard, nothing says welcome to autumn and the change of the season like Riverfest in Wilmington, NC. More than 250,000 people are expected to attend this family-friendly event in one of the top places to live in North Carolina. The event runs through Historic Downtown Wilmington on Water Street from the foot of Market Street to Cape Fear Community College. Festivities this year include:
Riverfest Run the River 8K Race
Riverfest Rowing Regatta
Great Waiters Wine Race competition
Sun Coast Cruisers' Classic Car Show
Riverfront Concert Series
Fireworks show
Delicious hometown food
Street fair with live music
Dance performances
Children's activities
This year, Riverfest is also debuting the First Annual Miss Riverfest competition. One well-deserving young lady will be crowned and perform hostess duties throughout the festival. The three-day event kicks off on October 2nd. It's one of the top annual highlights for North Carolina coastal communities.
During Riverfest, the Invasion of the Pirates is a kind of festival within a festival hosting a Pirates Ball on Saturday. Kids can pick up a treasure map and participate in a treasure hunt. Best of all, admission is free. Events like Riverfest make Wilmington one of the top places to live in North Carolina because folks love to enjoy the history of the region in a fun way.
The area's natural beauty, culture, history and warm climate combine to charm Boomers planning to relocate. For many, Wilmington is the #1 choice of top places to live in North Carolina. It is a vibrant area filled with sidewalk cafes, exciting galleries, entertainment centers and much more. Real Estate Scorecard believes affordable Wilmington real estate and a low cost of living are key factors.
Brunswick Forest is one of the area's top master planned communities that cater to Baby Boomers and families. The well designed neighborhood features upscale cottage homes, town homes, low-maintenance patio homes and charming bungalows. Each Brunswick Forest neighborhood has its own distinctive look, but open space is a common theme, as are gracious parks, native plantings and copious landscaping. It's hard to find a more beautiful neighborhood to enjoy the outdoors.
Other amenities include a network of more than 100 miles of paved and unpaved walking and biking trails connecting Brunswick Forest's various neighborhoods. No other community in the Wilmington-area offers as many walking and biking trails as Brunswick Forest.
Those trails link to the community's 18,000-square-foot Fitness & Wellness Center. The center provides high-tech health equipment and services, including indoor and outdoor pools; five hard-surface tennis courts and a sport court complete the outside area. The indoor facility features an aerobics studio; a workout room, men and women's locker rooms with showers and a steam room, plus massage rooms and a lounge.
Shoppers can feel right at home at the Villages at Brunswick Forest. Located just steps from their front door, Brunswick Forest residents can sip coffee, do their grocery shopping, grab a pizza, burger and more. The Villages is so close, resident can access it through a series of paths and trials, without ever leaving the neighborhood. For a Leland North Carolina real estate development, it doesn't get much better than this.
Take a peek at Brunswick Forest homes
Cape Fear National Golf Course is just a stone's throw away – offering 18 holes of championship golf in a setting of unmatched beauty. The Cape Fear National Golf Course winds through heavily undulating land and features several bridges through wetlands, three waterfalls and beach bunkers. A 7,000-square-foot clubhouse features indoor and outdoor dining, as well as a pro shop and locker rooms, making the overall golf experience as gracious off the course as on.
If water sports appeals more, Brunswick Forest's Town Creek also offers fantastic kayaking, fishing and canoeing. The tidal-influenced tributary meets up with the Cape Fear River and Intracoastal Waterway, winding its way to the Atlantic Ocean.
Brunswick Forest is located in Leland, North Carolina where the area's population is exploding. The number of residents was 13,527 at the 2010 census, up from 1,938 at the 2000 census. The area is full of small-town charm, blended together with the best of modern conveniences in close proximity to historic downtown Wilmington. Brunswick Forest is the crown jewel Leland North Carolina real estate development.
Riverfest is a great time to check out the area to see why so many people are moving to North Carolina coastal communities and make it a point to see the model homes at Brunswick Forest. To schedule a tour, call 877-588-4313.
About Real Estate Scorecard:
Real Estate Scorecard writes unbiased real estate reviews providing in-depth information about popular gated communities in Florida, Georgia, North Carolina, South Carolina and Tennessee, all in an effort to help people discover where to retire in the Southeast.
Website: http://realestatescorecard.com