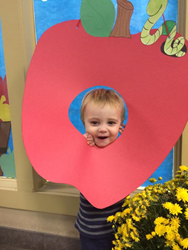 Fall is such an exciting time at our centers, we're excited to open our doors and show the community
Buffalo, NY (PRWEB) September 24, 2015
Doodle Bugs! Children's Centers, an education-based child care company with locations in Buffalo, Rochester, Florida and Pittsburgh, is hosting Fall Open House on October 7, from 5:30pm to 7pm. The fall-themed, fun and informative event is family-friendly and open to all.
Open House will feature a unique opportunity to meet all lead classroom teachers, discuss the Doodle Bugs BRAVO Curriculum and receive a tour of the child care center. In celebration of the start of the school year and fall season, centers will also offer face painting, fall activities, pizza and fall-inspired refreshments.
"Fall Open House is a fantastic annual event that provides an opportunity for families to learn more about the educational programs at Doodle Bugs! and celebrate the new school year and fall season" said Anthony Insinna, CEO and President of Doodle Bugs! Children's Centers. "Fall is such an exciting time here, we're excited to open our doors and show the community".
For more information on Doodle Bugs! Fall Open House, visit Facebook or call 866.668.5111.
About Doodle Bugs!
Doodle Bugs! is proud to be a leading education-based child care provider for the last 23 years. With 13 locations in New York, Pennsylvania, and Florida, the program now serves more than 3000 happy families and employs 500+ faculty members. Doodle Bugs! provides innovative, education-based care for children ages 6 weeks to 12 years, including Preschool, VPK, and School Age programs. The Bravo! Curriculum, which is professionally designed and exclusive to Doodle Bugs!, combines developmentally appropriate academic experiences, enrichment classes, and a series of center events. Enrichment programs include onsite swimming, Tae Kwon Do, and Doodle Dance & Fitness classes.
###