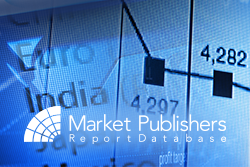 London, UK (PRWEB) September 24, 2015
The usage of weak opioids has dropped dramatically in the majority of markets, whilst the usage of strong opioids has grown recently. The overall market size in the nations stood at USD 15.7 billion as of 2014, of which the USA captured the largest share, with Japan and Germany following after. The prevalence of chronic pain globally was 20-30% in 2014, though the majority of the prevalence population had inappropriate treatment due to the high potential for opioid misuse or abuse. The cost of treatment and patient access are amid the major factors hindering the efficient management of opioid dependence in the majority of countries.
Comprehensive market research study "Opioids Overview to 2021 - An Assessment of Pain Management and Dependence" developed by CBR Pharma Insights is now available at MarketPublishers.com.
Report Details:
Title: Opioids Overview to 2021 - An Assessment of Pain Management and Dependence
Published: August, 2015
Pages: 110
Price: US$ 2,995.00
Page: https://goo.gl/M237jJ
The research report discusses the use of opioids as potent analgesics for the treatment of pain (cancer and non-cancer) and examines the management of opioid dependence in such countries as Italy, the US, the UK, Spain, Germany, France, Japan, Australia, India, and China. The study discusses the regulatory restrictions in each of the nations discussed, alongside reviewing the treatments available for opioid dependence like maintenance, withdrawal management, and psychosocial support. Additionally, the research publication covers dependence treatment settings, treatment usage patterns, substance abuse trends, and patient referral pathways.
Reasons to Buy:

Determine users of prescribed opioids and related revenues to 2021, as well as key pain management trends and the most typically used opioids in the countries reviewed.
Pinpoints the restraints and drivers for the use of opioids in each country, examine patient and/or prescriber reasons for reluctance to use opioids to relieve pain, and the incentives being taken or recommended to facilitate proper use.
Understand the narcotic regulations and laws typical for each nation, and identify the prescribing authorities and licenses necessary to posses and/or prescribe controlled drugs, the maximum amount of time for which an opioid can be prescribed, and latest amendments.
Analyse substance abuse and substance dependence trends, prescribing authorities, treatment usage patterns, and state funding for opioid dependence by exploring the percentage of people getting treatment for opioid misuse, the percentage of dependents receiving treatment, and usage trends related to medications.
More reports by the publisher can be found at CBR Pharma Insights page.