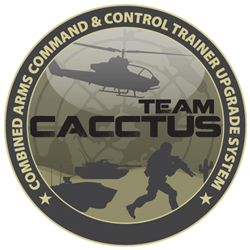 It's an honor for Riptide to once again play a role in training our Marines prior to deployment and doing our part to serve this great country. - Philip Loeffel
(PRWEB) September 24, 2015
Riptide Software was awarded a five-year, $47 Million contract by the United States Marine Corps (USMC) to continue its support of the Combined Arms Command and Control Trainer Upgrade System (CACCTUS) program. This is the second time the USMC awarded Riptide Software the CACCTUS contract, previously being awarded in 2011 for $44 million.
CEO of Riptide Software, Philip Loeffel said, "I am absolutely ecstatic by the amazing work that the entire CACCTUS team accomplished by winning this award. It's an honor for Riptide to once again play a role in training our Marines prior to deployment and doing our part to serve this great country."
CACCTUS immerses trainees in a realistic, scenario-driven environment which enables commanders to rehearse tactics prior to any physical engagement. In addition, CACCTUS provides training across live, virtual, and constructive training networks. Riptide leads an accomplished team comprised of: Leidos, General Dynamics Mission Systems, AEgis Technologies, AVT Simulation, and Phoenix Logistics, Inc. "We are very happy with the USMC's decision to retain Riptide as the CACCTUS provider allowing us to continue the journey we started four years ago. We believe that we can apply our expertise in emerging technology areas like cloud-based computing and advanced learning systems to further the capabilities of CACCTUS and ultimately provide the Marines with unparallelled training", added Barry Clinger, CTO of Riptide Software.
About Riptide Software
Riptide Software is an award-winning, formally assessed CMMI Level 4 software company based in Central Florida. For nearly two decades, Riptide has developed innovative software architectures and cloud computing infrastructure to deliver high volume systems at low cost. Riptide's services include a wide array of services and products for various industries, including cloud computing and on-demand technologies, mobile and web development, enterprise application development, e-learning, Salesforce consulting, and much more.